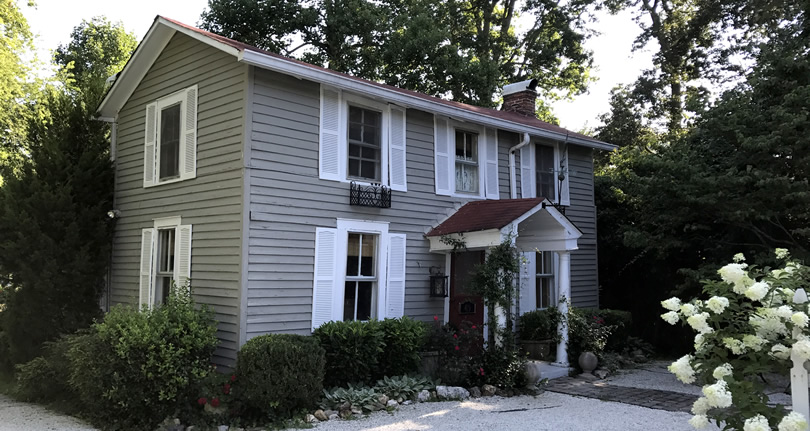 The oldest house in Druid Hills is the Leander Justice House at 419 Higate Road. The Leander Justice House became part of the neighborhood when the Leander Justice farm was sold for the development of Druid Hills. Druid Hills was platted in 1923.
Originally this was the farmhouse on the Leander Justice farm outside of Hendersonville. This is what many of the original farmhouses around here looked like. The I-House follows the form of traditional 17th century British hall and parlor and central-passage houses.
"Local builders perpetuated a small variety of traditional, symmetrical domestic designs, notably the two-story, one-room-deep house type (the I-house). Variations of this common form, usually with a side-gable roof, end chimneys, and a three-bay facade, were erected in Henderson County and throughout the Upland South into the early twentieth century (Southern 1978)… The Leander Justice House (HN 133), an 1890s version of this basic I-house type, survives in the Druid Hills neighborhood."
Hendersonville Historic Preservation Commission Website
www.hendersonvillehpc.org/hendersonville
The Leander Justice House is a good example of an I-house. It has traditional lap siding, with an entry portico and side gable roof. There is a small entry portico with columns and a front gable roof. In back, it has an L-wing and a rear addition with a shed roof. It has symmetrical two-over-two windows, three on the second floor and one on either side of the front door.
"I-houses generally feature gables to the side and are at least two rooms in length, one room deep, and two full stories in height. They also often have a rear wing or ell for a kitchen or additional space. The facade of an I-house tends to be symmetrical, and they were constructed in a variety of materials, including logs, wood frame, brick or stone."
Wikipedia
en.wikipedia.org/wiki/I-house
Why is it called an I-House?
Fred Kniffen called this form the I-House in the 1930s because they were common in Indiana, Illinois and Iowa, states beginning with I. Fred Kniffen was a specialist in folk architecture and cultural geographer at Louisiana State University.
Leander and Etta Justice
I found Leander Sylvester Justice. I am guessing he is the man who owned the farm. There are an awful lot of Justices and Justuses around here. Leander Sylvester Justice was born Jun. 6, 1872 and died Jan. 30, 1964. He was buried in Oakdale Cemetery. He shares a headstone with his wife Martha Jane "Etta" Redden Justice. She was born locally Jan. 19, 1872 and died Mar. 25, 1965. They had five children; Mamie Justice Hannah (1897 – 1920), Helen Marie Justice Darnell (1902 – 1945), Harry Justice (1907 – 1926), William Medus Justice (1911 – 1988), and Blanche Savannah Justice Campbell (1916 – 2011). They are all buried at Oakdale Cemetery.
Leander Justice's father was John Thomas Justice (1843 – 1912). His mother was born Martha Jane Hyder December 11, 1847. Martha's father, Leander's grandfather, Johnathan Hampton Hyder was listed on the 1850 census for Rutherford County with his parents John Wallis Hyder and Martha Lucy (Mullins) Hyder, John and Lucy Hyder is listed as a shoemaker and a deaf/mute. Leander's mother Martha died in 1888, when Leander was 16 years old. His father remarried Malinda Jones Justice.
The Justice family, probably the same family, were connected to the Speculation Lands for generations. New York-based speculator Tench Coxe purchased 400,000 acres from the Rutherford Land Company and other sources after the Revolutionary War and started the Speculation Land Company. The Company was one of the largest land owners in southwestern North Carolina, with thousands of acres in Buncombe, Henderson, Polk, Rutherford, and Mecklenburg counties.
"The Speculation Lands were first advertised for sale in those early days of the 19th Century as the land of opportunity, a land flowing with milk and honey, a veritable Utopia. But no mention was made of the valuable mineral deposits hidden under the ground. These mineral deposits were thought to consist of iron, lead, silver and gold underlying the surface of this vast acreage of land. In fact, from approximately 1820 to 1856, Rutherford County, where much of the speculation lads were located, was the center of the gold production in the United States.

"So much gold was produced during this period in Rutherford County that the only privately owned and operated mint established in this country was located there. This was the Bechtler Mint that coined most of the gold mined on the Speculation Lands. The Speculation Land Company always reserved the mineral rights to land it sold and these reservations were so stated in the deeds the company gave. These reservations have given title lawyers a lot of hard work and headaches in rendering title opinions in late years. Many of these lawyers have told me that even today there are thousands o acres of this land owned by people who own none of the mineral rights."

From the Banks of the Oklawaha Vol. III, Frank L. FitzSimons
In 2002, Gene and Sharon Robbins found the documents of the Speculation Lands when they opened an old iron safe in the basement of a home they had just purchased. They donated them to the University of North Carolina in Asheville.
Augustus and Katrine Williams
Augustus L. Williams and his wife Katrine moved into the house in 1937. Augustus Libby Williams was born Oct. 6, 1872 in New Jersey. Katrine Mahanna Williams was born Dec. 23, 1882 in Massachusetts. So, Augustus was 64 and Katrine was 54. They lived in the house until at least 1949. Katrine died in Henderson County October 26, 1956. She was buried in Oakdale Cemetery. Augustus was living in New Haven County, Connecticut when he died December 1, 1956. He was buried beside his wife. That's all I can find out about them.