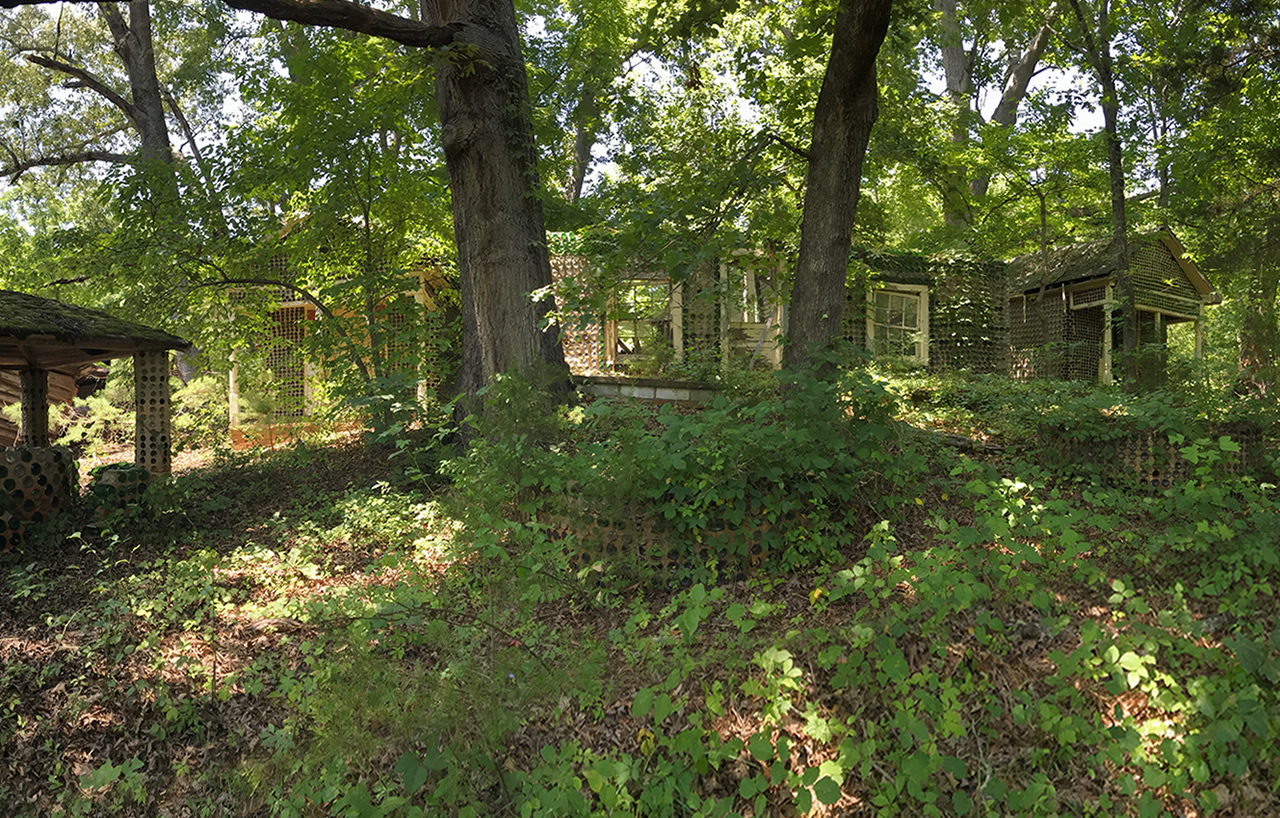 I read about Charlie Yelton's Bottle Houses quite a while ago.
After Charlie Yelton retired, he built three glass houses, a glass wishing well and two glass flower planters out of bottles. This appeals to me. My father collected bottles and my grandfather built things out of pallets. Grampa even built an entire 2-car garage with an apartment above it in Willis, VA out of pallets.
We went out once before to look for them but couldn't find them. Yesterday we decided to go look for them again.
It seemed like they shouldn't be too hard to find, if they still exist. An article by Bruce Buchanan says the group of bottle houses "still stands on Cherry Mountain Street in Forest City, just blocks from downtown." And an article by John York says they are "perched up on a hill behind Yelton's house, looking like something sprung from a fairy tale."
So we went to Forest City, NC, found Cherry Mountain Street and started from downtown looking for little roofs. We found quite a few, but they all belonged to small outbuildings. And none of them were "perched up on a hill." We decided to find a place to park, so we could walk more slowly. Cars kept trying to push us down the road a little faster. We found an apartment building with plenty of parking. A mail carrier was there taking a break. I walked over and asked her about it. She had never seen them, but had heard about them. She gave us very specific directions to where she thought they were. We would never have found them without her. They are miles out of town and completely grown over and invisible.
We found the abandoned driveway, which didn't seem all that secured.
It was quite a scramble through a lot of briars, but here is our first view of the houses.
There are three little houses. The one in the center was the first one he built. "Back in the early 1970s, Yelton built a house using bottles like bricks, sticking enough of them together with concrete to make a four-room house."   Bruce Buchanan, Star Staff Writer
Charlie Yelton's First Bottle House
This one is in the poorest condition. The roof and ceiling have crashed in.
Bottles are even set into the concrete of the floor.
You can see that even the interior walls were all built from bottles.
This is what the walls look like from the inside.
This is what the walls look like from the outside.
Between the houses.
The Bottle House on the Right
The other houses still have their roofs.
This is the house on the right. It was mostly empty. Just some unusual tools and fragments of books.
The Bottle House on the Left
This is the house on the left. This is the first one we could see.
You can see how the bottles were used as bricks.
There are cobalt bottles set into the cement of the floor.
Looking up in the front porch of the bottle house on the left.
It is filled with bottles.
Wishing Well
Bruce Buchanan quotes Melissa White, Charlie Yelton's granddaughter who was then living in her grandfather's old home in front of the bottle houses, "People would throw change into the wishing well and when he cleaned it out, he gave the money to the church."
Planters
There are also two planters.
We made our way back to the car and found we were blocked in by a gentleman in a pickup who wanted to know who we were and what we were doing.
We told him and showed we took nothing but pictures. He was not real happy to have visitors, since someone had recently looted quite a bit of stuff, even damaging the main residence to steal the copper. We agreed not to disclose where the Bottle Houses are. The family live all around the house and will be there pretty quick if you figure it out.
Mr. Yelton warmed up and told us stories about his father. He even allowed me to take home a bottle. Like his father, I collect bottles. But not nearly as many!
Articles about the Bottle Houses
Forest City – Images of America Series – Charlie Yelton's Bottle Houses

Created by Charles Yelton, the three Cherry Mountain Street bottle houses are the area's most unusual houses; the Yeltons recorded 15,000 visitors. The Daily Courier from March 9, 1983, called them "the ultimate answer to roadside litter." Yelton built the first bottle house using 11,987 bottles in 1971; by 1974, he had completed all three.

Forest City – Images of America Series
by Dr. Anita Price Davis
Charlie Alton began building his bottle houses in Forest City, North Carolina, in 1971. Charlie had seen a television program about a bottle house out West (Rhyolite? Grandma Prisby?) and reckoned he could do that, too. He had just retired after working for the Florence Mill for 50 years, and needed something to occupy himself. Four years and 11,987 bottles later Charlie had three bottle houses, a glass wishing well, and a glass flower garden all built out of beer and whiskey bottles, as well as 7-Up and Milk of Magnesia bottles. Nor had he any idea of how to build a house. "I just started building and laid it out as I went," he explained. As with Doc Hope's bottle house in Virginia, there is an ecclesiastical gleam to the interior, a secular stained glass effect that gave Charlie peace: "I come here pretty often when I feel I want to be alone with the Lord. I just kneel down here and talk to the Lord a while. When I leave here I feel a lot better" Charlie Alton died in 1993, and as with Grandma Presby, the future of his rare work is undecided.

Architectural Follies in America – An illustrated guide to 130 of the most unusual structures in America by Gwyn Headley
The trees have grown thick around Charlie Yelton's dream house now, so thick that even locals who drive by every day aren't sure if it still exists, or if it ever did. But the house, known to everyone as "the bottle house," still stands on Cherry Mountain Street in Forest City, just blocks from downtown.

Back in the early 1970s, Yelton built a house using bottles like bricks, sticking enough of them together with concrete to make a four-room house. He later added two matching outbuildings, two planters and even a wishing well.

Yelton started the project in 1971 after an accident at work crippled one of his legs, according to his granddaughter, Melissa White, who now lives in her grandfather's old home in front of the bottle house. "He started collecting bottles and, well, he got so many he built a house out of them!" Mrs. White said.

Saving up enough bottles to build a house took time and work, though: there are exactly 11,987 bottles in the main house alone. Yelton hauled in hundreds of bottles from neighborhood creek banks and roadsides. He extended his search throughout the region, going across the Carolinas picking up cardboard boxes and paper bags full of bottles. "People started hearing about what he was doing and brought them to him," Mrs. White said.

Yelton finished the main house in 1974 and the finished product is as much art as architecture. The walls are made from 16 ounce clear glass soda bottles, most of them Pepsi brand. Green soda bottles, which once quenched the parched throat of a thirsty Sun-drop or Sprite drinker, edge the windows and roof. Brown beer bottles, a few with the screw-on caps still attached, form the partitions between rooms and the back porch is made from quart-sized bottles. Blue Milk of Magnesia bottles form a cross just above the main entrance. Yelton even embedded bottles into the floors, usually in some type of geometric pattern like a circle.

Yelton never actually lived in the house, but Mrs. White said he used one of the rooms as a prayer room. In the other rooms he stored – what else – more bottles. "He had a lot of unusual bottles in there, just sitting around," she said. He worked on the other buildings until a couple of years before his death in 1992, Mrs. White said. Stacks of dusty bottles sit on the back porch, as if they were waiting for Yelton's hands to come back and find a place for them.

The house never was officially a public attraction, although in Charlie Yelton's day, plenty of visitors came by to see it. A picture of the bottle house once even represented North Carolina in a display of amazing sites at the Denver airport. "He's had people from all over the world come and look at it," Mrs. White said. "My grandfather would walk everyone up here and show them the house himself." Yelton kept a register book at the house, and visitors from as far away as Iran and South America signed it. Every one of them, whether from Russia or Rutherford County, saw it for free. "My grandfather never charged a dime," Mrs. White said. "People would throw change into the wishing well and when he cleaned it out, he gave the money to the church." Mrs. White said the visitors aren't as frequent now, although they do occasionally come to see if the stories of the house made of bottles are true. But to Yelton's family, the house will always remind them of the hard work and care he put into it. "He did it all by himself," Mrs. White said. "He used a hammer, a trowel and a wheelbarrow and that's about all the tools he used to build it.

Bruce Buchanan Star Staff Writer FOREST CITY
After the house trailer broke his leg in 1970, and after the second trip to the hospital that same year for treatment of skin cancer, Charlie Yelton decided maybe somebody was sending him a message. Maybe it was time for him to hang it up and do what he wanted for a change.

He was bored with daily routine. "I wanted to do something different, but I didn't quite know what it was," Charlie Yelton recalls. So, after 50 years as an employee of the Florence Mills, not to mention farming and working as a truck driver and construction lineman for Southern Bell, he retired. Then he began casting about for an idea. This is why there are three glass houses, a glass wishing well and a glass flower garden perched up on a hill behind Yelton's house, looking like something sprung from a fairy tale.

Glass houses? Yep. All three houses are constructed of glass bottles set in mortar. A lot of bottles; 11,987 to be exact. Beer bottles, soft drink bottles, and – Charlie Yelton grins – yes, pint whisky bottles.

People ask me sometimes if I drunk all the stuff that came in those bottles," Yelton chuckles. "I tell them absolutely not. If you had, all the whisky I've drunk in my life in a water glass I doubt if it'd take up a half inch."

Taking To The Bottle – Retired Millworker Built Houses Out Of Glass by John York
Save
Save
Save
Save
Save
Save