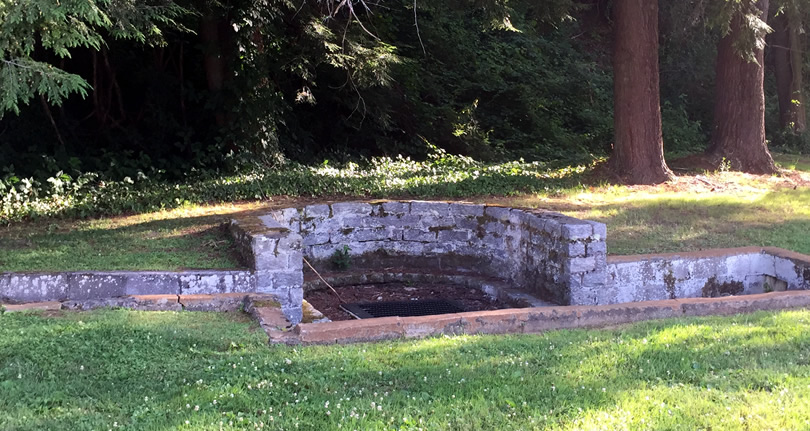 At one time Lenox Spring was known throughout the southeast for its mineral waters. Water from this spring was bottled and shipped out from the train depot. People came from all over to bathe in the water.
The Cherokee name for this spring, translated into English for the pioneer settlers, was "Gift from the Great Spirit."

The spring and a large boundary of land surrounding it was acquired by Dr. W.D. Whitted, the first druggist, physician and surgeon to practice medicine in Hendersonville, sometime in the mid-nineteenth century.
The spring was renamed Whitted Spring after Dr. W. D. Whitted.

City of Hendersonville Park & Greenspace Master Plan
By 1948 the spring was re-named Lenox Spring.
The name Lenox came from the famous Lennox Jewel, a clear, blue, sparkling sapphire belonging to the Countess of Lennox.

This spring was known throughout the southeast for its healing mineral waters. In the late nineteenth to early twentieth centuries, the waters were bottled and shipped all over the southeast. Visitors to the many boarding houses in Lenox Park were drawn to the spring and its waters.

City of Hendersonville Park & Greenspace Master Plan
The Lennox Jewel or Darnley Locket is one of the most important early jewels in the Royal Collection.
It was commissioned by Lady Margaret Douglas, later Countess of Lennox for her husband in the 1500s.
The Lennox Jewel was acquired by Queen Victoria in 1843.
Right across is the City Ice & Storage Company Building. It was built in 1915. That address is 422 S. Whitted Street. The two original service bays where they would load the ice onto the wagons have been filled in with brick, but you can still imagine what it was at one time.
This was a tourist area at the turn of the century. Many of the surrounding homes took in summer boarders. There was a train station right by Lenox Spring.
Street cars used to run from the railroad station. There was a park with a merry-go-round, baseball fields and picnic areas.
The neighborhood around Lenox Spring is now Lenox Park Historic District. There are 42 contributing Queen Anne, American Foursquare, and Bungalow style American Craftsman houses that were built between 1908 and 1952.
The Spring Street Bridge, built in 1930 is also of note.
Lenox Spring is now a Hendersonville City Park. A very small park.
Lenox Park was acquired by the City of Hendersonville in 1942 with an additional parcel acquired in 1959.

Lenox Spring was eventually capped by City Council in 1968-69 due to health issues resulting from people bathing in the spring.

Lenox Park is just under ½ acre in size and includes the capped Lennox Spring, a picnic table and outdoor grill.
City of Hendersonville Park & Greenspace Master Plan