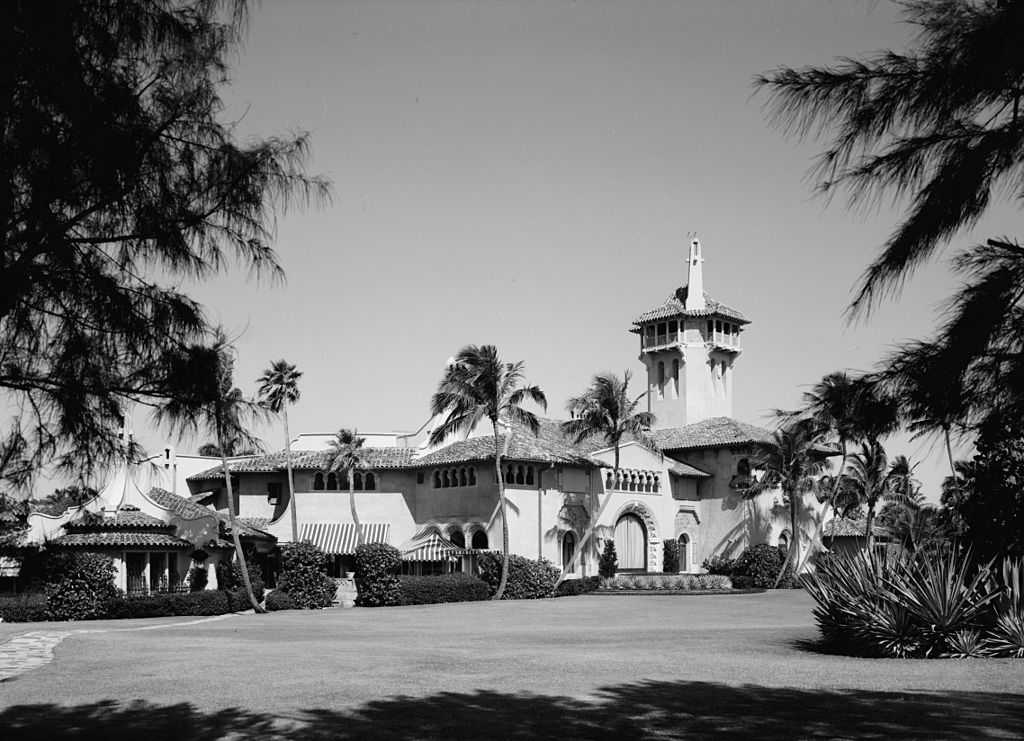 We were driving along A1A in Palm Beach, Florida. Traffic was slow, but it was often slow. Then we were directed into gates. We didn't know it, but we were in a line of cars waiting to go to a function happening at Mar-a-Lago. Everyone was dressed to the nines. We were in bathing suits. I'm sure they would have stopped us before we got in the door.

Mar-a-Lago was built from 1924 to 1927 by Marjorie Merriweather Post. She was the daughter of C. W. Post. Her father died when she was only 27 years old, leaving her the owner of the Postum Cereal Company and the wealthiest woman in the world, worth some $250 million.
In 1920, Post had married financier Edward Francis Hutton. He was made Postum Cereal Company chairman of the board and together they developed many additional food products. Marjorie Merriweather Post was a shrewd businesswoman. The company bought Birdseye's company and patents and hired Birdseye to improve frozen food, founding Birds Eye Frozen Food Company. Postum was renamed General Foods.
In 1924 E. F. Hutton and Marjorie began to build a "million-dollar cottage" on Palm Beach. This was the height of the Roaring Twenties, a time of great economic prosperity following the First World War.  Think jazz, flappers, the modern woman and Art Deco. Automobiles, telephones, movies, electricity, even radio were new and exciting!  Women could have successful careers, even vote!
This was the beginning of a new age of fascination with celebrities. Newspapers and magazines reported on everything the wealthy, sports heroes and movie stars did. Marjorie Merriweather Post, now Mrs. E. F. Hutton, was famous for her extravagance, her clothing, jewelry and lavish parties.
Henry Morrison Flagler had popularized Palm Beach as the place to go for the Winter Season in the Gay Nineties. He built a railway and two luxury destination hotels, the Royal Poinciana Hotel and The Breakers Hotel.  By the '20s, Palm Beach was established as the society destination. The rich wanted their place in the sun. Oceanfront mansions were building up along Palm Beach.
Many of these mansions were literally built on sand. Marjorie, only 33 years old was already a discerning business woman. She found a place on the island with a large enough foundation of solid coral rock to build the fantasy palace she imagined.
And what a palace! The Mar-a-Lago grounds stretched 17.7 acres from the Atlantic beach to Lake Worth. That's why she named it Mar-a-Lago, Portuguese for "Sea-to-Lake." The house was enormous, with fifty-eight bedrooms, thirty-two bathrooms and twenty-seven rooms for staff. And it was pink.
Marjorie Hutton commissioned local architect Marion Sims Wyeth and Joseph Urban for the project. Wyeth had designed Hogarcito, the Huttons' first home in Palm Beach.
Joseph Urban was an internationally recognized architect and theater set designer. His first project was a new wing on the Abdin Palace in Cairo. He was best known for color, vivid color. He also illustrated children's books. When he was hired to design Mar-a-Lago, he was designing sets for the Ziegfeld Follies.
E. F. Hutton asked Wyeth to help control Urban's "exuberance and often fantastic ideas." Wyeth is quoted as saying; "My relations with Joe were very friendly during the time I worked with him, but not very fruitful. At the end of a year I went to the owners and told them that I could neither influence nor control the cost."
Construction and interior decorating came to $8 million.
Marjorie Hutton celebrated the opening of her new home January 1927 with a succession of extravagant parties. Reaction varied. Some lauded her vision. Some ridiculed her eclectic taste.
Each of the fifty-eight bedrooms was decorated in a completely different style. The Versailles Room, the master bedroom was extravagantly French Baroque. The Venetian Room featured antique mirrors and crystal from Murano. The Dutch Room had antique Delft tiles. The English Room was historic Williamsburg.
Joseph Urban's background as a children's book illustrator and set designer really shone with the Sleeping Beauty Suite. The Huttons had one child, Nedenia. Her suite, a large sitting room and bedrooms for Nedenia and her nurse had a fairy tale motif. The bed was silvered wood with carved animals. The fireplace was shaped like a beehive. The walls and ceilings were decorated with pink roses and twisting vines in plaster. Carpets were woven with illustrations from fairy tales. After the Lindbergh kidnapping, the Huttons installed an iron gate and had body guards stationed at the entrance to "Deenie's House."
The house had a full-time staff of sixty, which grew to eighty during the entertainment Season. When Marjorie was in residence, there were fourteen security personnel. During the Korean War, Marjorie had three bomb shelters excavated under Mar-a-Lago. The largest was for the staff.
When Marjorie Merriweather Post died in 1973, she left Mar-a-Lago to the U. S. Government. She intended it to be used as a winter retreat for American presidents and a meeting place to entertain foreign dignitaries and high officials. The million-dollar-a-year upkeep, combined with the location under Palm Beach Airport flight path led successive presidents to decline the offer. Mar-a-Lago was returned to the Post estate in 1980.
The Post Foundation put Mar-a-Lago on the market for $20 million. The 1985 tax assessment was $12 million. Five different buyers defaulted before Donald J. Trump purchased the mansion. He paid $5 million for the house, an undisclosed amount for the furnishings, estimated at $3 to $5 million, and another $2 million for 358 feet of beachfront property previously sold by the Post Foundation.
Donald and Ivana Trump hired an interior designer to restore the home. Like Marjorie Post, they spent their winters there.
Tropical Splendor by Hap Hatton points out that; "Both the first and newest owners moved into Mar-a-Lago while in their thirties – a young age for castle building or castle buying. Another similarity is the price tag: Even though sixty years separate them from Mrs. Post, the Trumps may have paid only slightly more than Marjorie spent to build Mar-a-Lago."
Trivia
Marjorie Merriweather Post's first husband, Edward Bennett Close was grandfather to actress Glenn Close by his second wife.
Marjorie and E. F. Hutton's daughter, Nedenia Hutton grew up to be an actress, better known as Dina Merril. She was marketed as "Hollywood's new Grace Kelly". She was in Desk Set with Spencer Tracy and Katharine Hepburn and other classic movies like The Sundowners and Butterfield 8, as well as Caddyshack II and TV series Batman, Bonanza and The Love Boat. Her cousin, Woolworth heiress Barbara Hutton married Cary Grant.
Coconut palms are not native to Florida. In 1878, the Spanish ship Providencia, loaded with coconuts shipwrecked near Mar-a-Lago. Locals planted the coconuts and the trees grew on what would later be called Palm Beach.
Dina Merril, Nedenia Marjorie Hutton, who grow up at Mar-a-Lago, died May 22, 2017.