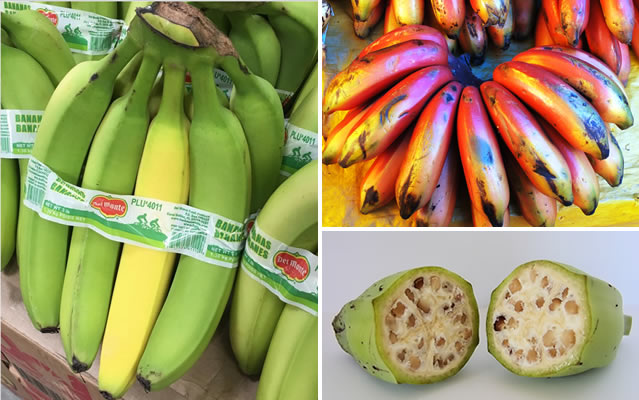 My cousin posted this photo of bananas on Instagram.
So, I got curious about this. Why is only one yellow? This is what I learned:
Bananas are berries.
Banana Trees are GrassThe banana plant is the largest herbaceous flowering plant.
Although they are mistaken for trees, they are actually a stalk with blades, like grass.
Most cultivated banana varieties grow 16 feet tall. Wow!
Fluorescent Radioactive Bananas?
Bananas are naturally slightly radioactive.
They are high in potassium.
Isotope potassium-40 is found in naturally occurring potassium.
Ripe bananas fluoresce when exposed to ultraviolet light.
Not all bananas are yellow.In other areas bananas come in many colors, sizes and shapes. Bright red is a favorite. Some bananas have fuzzy skin.
Where are the seeds?Some bananas have big seeds inside them.
Bananas self-propagate underground.
They are extremely easy to farm. Any broken off pieces of the root suckers will make new plants. So, bananas are "clones." Bananas lack genetic diversity. This makes bananas very vulnerable to diseases.
The Bananas We Eat
The yellow banana we eat here was developed by Chiquita Banana in 1836. Panama Disease was wiping out all bananas. They developed Cavendish, a disease resistant banana variety.
Banana flowers, leaves and stalks are also eaten.
Banana plants are a source for fiber used to make paper, yarn, fabric and rugs.  It can be very course and sturdy or processed to have a silk-like texture.
So, why are the ones we get yellow?
Bananas are handled carefully after harvest to prevent them from producing their natural ripening agent, ethylene.
Once at the destination country, they are put into ripening rooms, air-tight rooms filled with ethylene gas. The sudden ripening makes them turn brighter yellow.  Slow natural ripening leaves them yellow greenish brown.
Yellow and green bananas are wrapped before distribution to prevent the yellow ones off-gassing and ripening the green ones. This makes them last longer.
Why is only one yellow?
My guess is, this banana sneaked a peek at the yellow bananas.
Save
Save