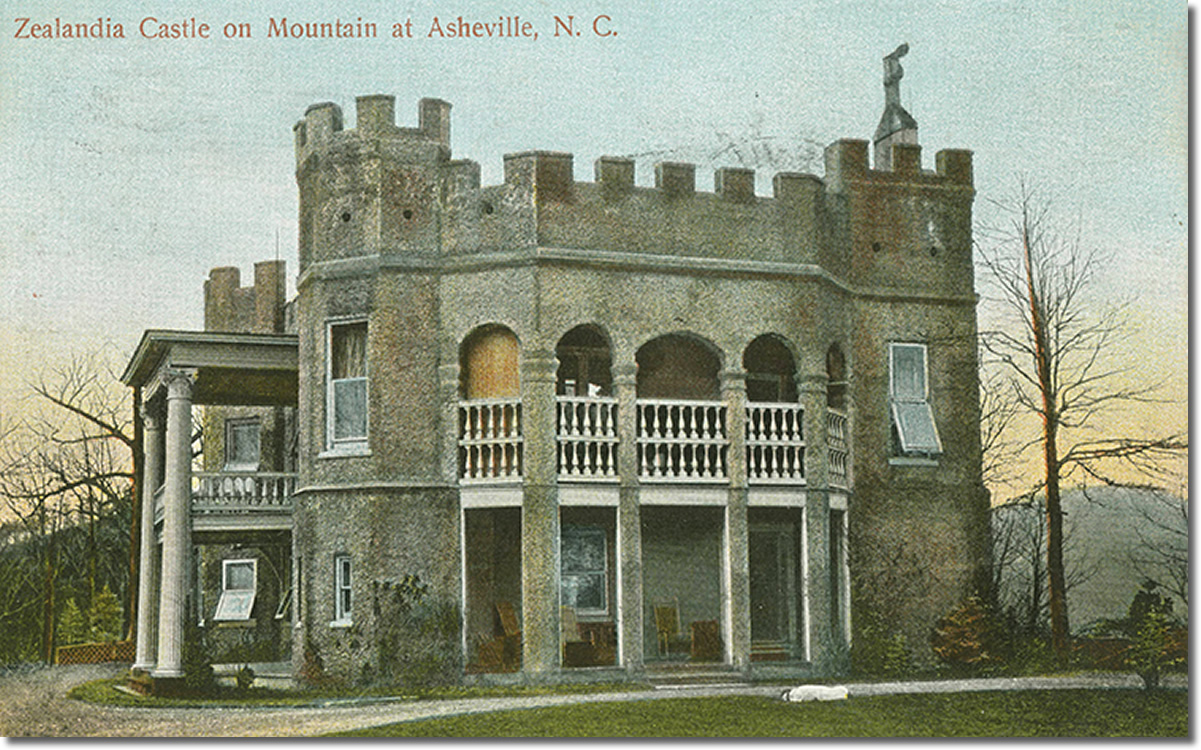 If you drive over Beaucatcher Mountain instead of through the tunnel, you drive under a bridge. This is Zealandia Bridge. It is also called Helen's Bridge after a woman who is supposed to have committed suicide here.  This was the entrance to Zealandia Castle, home of John Evans Brown.
John Evans Brown was born in Lewiston, PA in 1827. He studied medicine and law until ill health led him to North Carolina, where he became a surveyor. He moved to Buncombe County with his father about 1843 but left in 1849 to join the gold rush to California.
John Brown wrote a book on this episode in his life; Memoirs of a Forty-Niner. You can buy it on Amazon. I really enjoyed it! It took days just to reach Knoxville, going by way of Warm Springs. (I'm guessing that is Hot Springs now.)
"All is work and excitement and proving ourselves men, leaving family and friends to go amongst the wilds. Who can tell which or how many will fall by disease, an Indian arrow or the several dangers that will beset our path, but to the west we have set our faces, and to the West we go."
He sailed on from San Francisco for Australia, where he became a gold miner, sheep rancher, and businessman. He eventually served as US Consul.
In 1859, he married Theresa Australia Peacock. The couple settled in the Eyre River area of New Zealand near Christchurch.
He named the area Swannanoa, after the Swannanoa Valley in North Carolina where his father lived. The Swannanoa River begins in Black Mountain, North Carolina and flows into the French Broad River at the Biltmore Estate.
John Evans Brown was active in establishing public transportation, a tramway system with steam and horse trams. The couple did much to establish a system of free, compulsory education.
Their home, Chippenham Lodge is still there, St Albans, 51 Browns Road, Christchurch, New Zealand.
They had four sons, John Peacock, John Evans, William Vance and Hubert Evans; and two daughters, Maria Theresa and Kate (Katy) Elizabeth.
In 1877, their oldest son, John and the baby, John Evans Brown both died within five days of each other. His wife Theresa could not recover from the loss. She declined in health and died in 1880, at only 42.
After Theresa's death, John Brown remarried Jane (Emily) Martin in 1883.  The following year, his father, Major William John Brown, died and John inherited thousands of acres in the mountains of western North Carolina and in Tennessee that were considered virtually worthless. (At one point William John Brown owned nearly 500,000 acres just in Buncombe, Burke, and Wilkes counties.)
toto.lib.unca.edu/findingaids/mss/default_johnbrownspeclands.html
John Brown and his new wife returned to North Carolina with his remaining children, Maria, Katy and Hubert. He hired mineralogists to discover what could be mined on his land. They discovered mica deposits. This was the boom in mica use. Mica was mined and shipped as far as Europe.
Isinglass, sheet mica, was used for streetlights and as peepholes in boilers, lanterns, stoves, kerosene heaters, and the 'glass' in horse drawn carriages. Many new electrical inventions required mica for components and insulation. He hired engineers and researchers to find new uses for mica, built a factory and became increasingly wealthy.
In 1889, they built Zealandia Castle, inspired by Moro Castle at Havana. It is on the crest of Beaumont, the mountain Tunnel Road runs under.
Brown died in 1895 at 68. He is buried in Riverside Cemetery, Asheville.
The bridge was added in 1909. It was designed by Architect. R. S. Smith, the field architect for the Biltmore House who also designed All Souls Cathedral in Biltmore Village.
In 1977, the property was nominated for the National Register of Historic Places. The section Statement of Significance states; "The present house was Henry's addition to an earlier structure on the site which was built for John Evans Brown in 1889… The original Brown portion of the house was razed in the 1950s and the mansion was reduced to the present twenty-eight rooms." Sad.
"Since 1889 Zealandia has occupied its prominent site on Beaucatcher Mountain overlooking the city of Asheville and the surrounding mountains. John Evans Brown, a grandson of one of the first explorers of Western North Carolina, built the original castellated structure. In 1849 Brown left Asheville in the gold rush. He kept a diary of his journey which vividly described the hardships and deaths that accompanied the trip to California. Like many others who had gone west in search of a fortune, Brown was disappointed and in the 1850s continued west, finally setting in New Zealand. He married first the daughter of a prosperous sheep raiser named Peacock and became a very prominent citizen. He served as a member of the Colonial Parliament and named his district Swannanoa after the river in Asheville. John Brown returned to North Carolina in 1888 and had a home built on Beaucatcher Mountain a year later. He named his castle 'Zealandia' after his adopted country. In 1895 John Brown died at the age of 68.
"… The existing Brown house consisted of 32 small rooms… The original Brown castle was a pebble dash stucco over brick… A 1908 postcard shows an artist's sketch of the new house. The artist probably speculated on the final appearance of the unfinished house…

"…in the 1950s Hartley and Violet Maconochie had decided that the 62-room house was too large. They tore down the old Brown portion of the house and a few rooms of the 1908 addition, leaving the present 28 rooms."
Nomination form National Register of Historic Places Inventory for Zealandia >