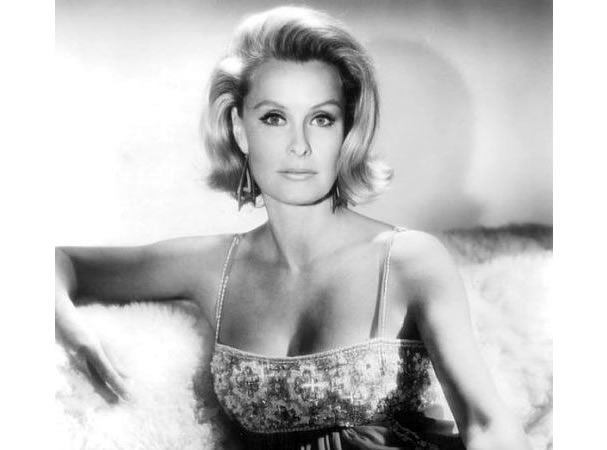 Dina Merril, Nedenia Marjorie Hutton, died this week. She was the only child of Marjorie Merriweather Post, the Post Cereals heiress and Edward Francis Hutton, the founder of E. F. Hutton. She grew up at Mar-a-Lago."The Huttons' daughter Nedenia (as an actress she is known as Dina Merrill) occupied the Sleeping Beauty Suite, also called Deenie's House. The fairy-tale fantasy consists of a large sitting room and two bedrooms-one for Nedenia and another for her nurse. Nedenia's contains a slivered wooden bed carved in animal motifs, a beehive fireplace, stuccoed pink roses on twisting vines, and carpets woven with illustrations of fairy tales. There is an iron gate at the entrance to the suite. After the Lindbergh kidnapping, armed bodyguards were stationed there at all times. " Tropical Splendor, Hap Hatton
See a gallery of photos of Mar-a-lago from Palm Beach Daily News PHOTOS: Dina Merrill through the years at Mar-a-Lago, Palm Beach
When she began acting, she changed her name from Hutton to Merrill. It was rather a pun, after Charles E. Merrill, co-founder of Merrill Lynch. He was not only a stockbroker like her father, E. F. Hutton, but also a distant relative.
Dina Merril acted in many movies you've probably heard of; Desk Set with Spencer Tracy and Katharine Hepburn; Don't Give Up the Ship with Jerry Lewis;  Operation Petticoat with Tony Curtis and Cary Grant (Cary Grant was married to Dina Merril's cousin, Woolworth heiress Barbara Hutton); The Sundowners with Robert Mitchum and Peter Ustinov; Butterfield 8 with Elizabeth Taylor; The Young Savages with Burt Lancaster, Shelley Winters and Telly Savalas; I'll Take Sweden with Bob Hope, Tuesday Weld and  Frankie Avalon; The Greatest with Muhammad Ali, Ernest Borgnine, James Earl Jones and Robert Duvall;  A Wedding with Desi Arnaz Jr., Carol Burnett,  Mia Farrow and Lillian Gish and so many other movies.
Dina Merril was even in  Caddyshack II with Chevy Chase and Dan Aykroyd. She was in episodes of the old Batman TV series with her then-husband Cliff Robertson and made guest appearances on many other TV shows like Bonanza, The Love Boat, Quincy, M.E., Murder, She Wrote and The Nanny.
Nedenia Marjorie Hutton was born December 29, 1923 and died May 22, 2017, She was 93 years old.
You can read another article about the various bedroom suites at Mar-a-Lago with photos on the Palm Beach Daily News Website: Guest Suites Each a Different Theme