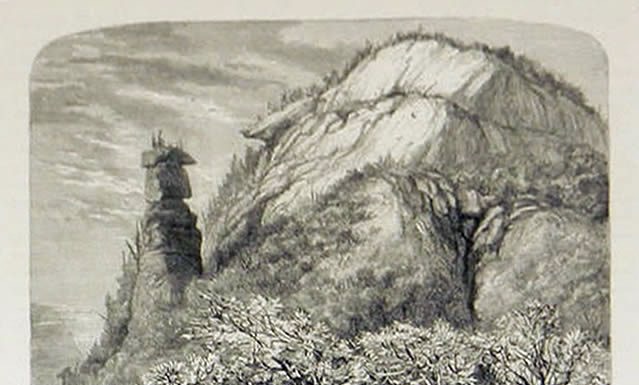 Chimney Rock is out US-64 E in Chimney Rock near Lake Lure.
It has hiking trails, incredible views and a long history.
In the late 19th Century, the area was owned by Jerome B. Freeman. He logged the area for the huge virgin black walnut trees. These enormous trees were cut by hand, dragged by oxen and taken by wagon to the railroad in Hendersonville. The trees were so huge, just one log could be hauled at a time.
After the trees were cleared, Rome Freeman saw the potential for the huge rock chimney to be a tourist attraction. He opened a trail from the nearby village to the base of the rock, chiseled a path and put in a toll booth. It was a 3-mile hike to the top of the rock, but tourists made the effort and spread the word. Chimney Rock became famous all over the East.
Around 1900, Dr. Lucius B. Morse paid twenty-five cents for a mule ride to Chimney Rock. Dr. Morse had been diagnosed with tuberculosis and came here from Chicago, hoping to improve his health. Because of the fine climate and clean air, this area had many tuberculosis hospitals and sanatoriums.
Before the discovery of antibiotics, during the late 19th and early 20th centuries, tuberculosis was the leading cause of death in the United States.

There wasn't much that could be done to treat the disease.

By the late 1800s, tuberculosis sanitariums were built in many areas. This area of western North Carolina was found to have the right climate and everything recommended by doctors at that time.
Dr. Morse had an idea. He wrote to his older twin brothers, Hiram and Asahel, and insisted they come see the area. In 1902, the Morse brothers bought Chimney Rock from Rome Freeman. They replaced the three-mile hike with a bridge across the Rocky Broad River and a graded road so autos could make it to the base of the rock. They had a series of stairs put in that lead to the top of the Chimney. Dr. Morse opened a nearby Tuberculosis Sanatorium in 1908.
The brothers put in a restaurant and an inn, paths with benches and scenic overlooks.   Finally, they had a tunnel cut to the bottom of the rock and an elevator put in through solid granite and quartz. The project was completed in 1949.
The Morse brothers and their descendants operated Chimney Rock as a private park until 2007. Now it is a North Carolina State Park.
Films A Breed Apart and The Last of the Mohicans were filmed here.
References:
From the Banks of the Oklawaha Volume 3, Chapter 16 Jerome B. Freeman
Save