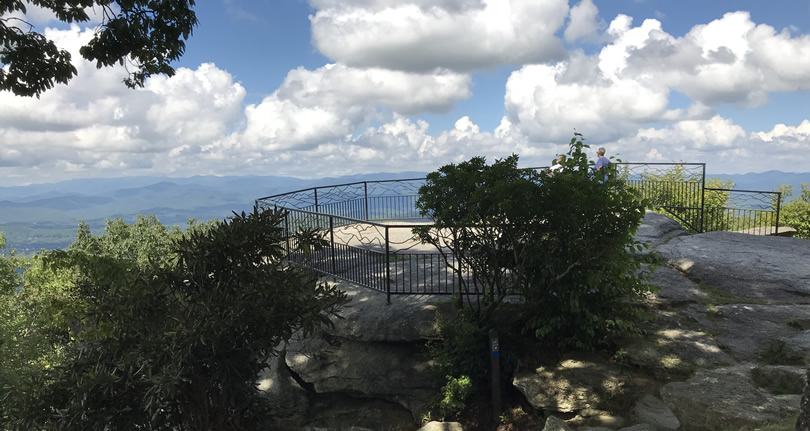 This drive to Jump Off Rock starts at the corner of Main Street and 5th Avenue in Hendersonville. That is the corner right after Mast General Store and Team ECCO Aquarium.
This is what Main Street used to look like.
502-512 N. Main – The corner structure was The Palace, Hendersonville's first movie theater
507 N. Main – The first gasoline pump on Main Street was located in front of this building.
Turn right on 5th Ave West between McCarter Gallery and Mehri and Company Antique Store.
This train used to run from downtown Hendersonville, Main Street to Laurel Park. You could get on the train at the corner Main Street, in front of what was then Hunter's Pharmacy, then ride up the north side of 5th Avenue at speeds up to 25 miles per hour.
The "dummy" used to do a tremendous business. As many as 200 fares were collected on one trip. When business was rushing, an open-air trailer was added behind the passenger coach. The train makes hourly trips to the park, except when business was booming. Then trips were made as fast as the car could be loaded.

The Times-News – Feb 27, 1968
Why "Dummy"?
A dummy engine was a steam engine enclosed in a wooden box so that it would look vaguely like a coach. This was common then, when a train operated on city streets. They thought this would be less likely to frighten horses. In a lot of areas, trolleys were steam powered and the steam engine had to be disguised to be legal. (It was actually the racket that a steam train made that scared the animals.)
Fifth Avenue West
You are driving (or walking) in the West Side Historic District.
Nearly everything you drive by here is a contributing historic house.
Fifth Avenue was the main route going this direction before 64. There were a lot of Inns and Hotels. Elizabeth Leigh Inn, originally built in 1893, is at 908. Melange Bed & Breakfast, at 1230 5th Ave West, was built in 1919. Melange Bed & Breakfast is an Erle Stillwell house. He is a famous Hendersonville architect. I don't think either Inn serve meals if you are not a guest. But, things change. They may.
Neo-Classical Revival Apartment Buildings
616 Fifth Avenue West Ambassador Apartments ca. 1926.
Three-story Neo-Classical Revival apartment building with a center hall. Parapet roof with limestone urns, brick facing over tile construction, and brick quoins. Broken pediment at front entry with "Ambassador" inscribed in the limestone. Classical details in limestone surround the door.
The Ambassador Apartments may have been designed by Erle Stillwell. This was built as apartments, with eighteen units in the building.
623-629 Fifth Avenue West Maxwell Apartments ca. 1920.
This is the Flower Market at

625

and whatever is currently sharing the building. I've been upstairs here. It is apartments now. You can see the old bones, but it's kinda sad now.
Four-story Neo-Classical Revival apartment building, built in two wings, with a courtyard between. Added onto a two-story Classical Revival brick house at the rear. This may also be a Erle Stillwell design.
This may be the earliest apartment building in Hendersonville. It was built by Sylvester Maxwell. The front of the building was added in 1927 onto the Dickinson, a boarding house built ca. 1920.
In the 1930s, this was the Great A & P Company Grocery Store.
The Oldest House in the West Side Historic District
813 Fifth Avenue West Columbus Mills Pace House 1860s
Two and one-half story, classically-inspired, double-pile, central hall plan house with a side gable roof and front gable dormers. Scrollwork on two-story porch.
Large lot and landscape with maples, mature boxwoods, hairpin fence, and a stone retaining wall.
This is the oldest house in the neighborhood. It was a Rooming House in the 20s and then again in the 40s and 50s, when it was called Locust Lodge. More recently it was the Angelique Inn. I am pretty sure it has been closed for a while.
The house was built by Columbus Mills Pace in the 1860s. Columbus Mills Pace was the first Justice of the Peace in Henderson County. He served as Clerk of Superior Court from 1868 to 1925, and also served as a county commissioner.
Pace was a partner of W. A. Smith in the early development of Laurel Park.
Two Historic Inns
908 Fifth Avenue West Roberts House ca. 1893.
Presently Elizabeth Leigh Inn.
Two-story Colonial Revival house with a central hall plan, hip roof with wide eaves, hip roof dormer with diamond-pane casements. German siding. Wraparound porch with paired columns.
This is one of the historic houses that was probably built by Charleston families escaping the heat and humidity.
It later belonged to Charles E. and Verona Rogers, of Rogers Hosiery Mills.
From 1941 to 1942 it was the Fifth Avenue Guest House.
1230 Fifth Avenue West Charles A. Hobbs House 1922
Presently Melange Bed & Breakfast.
Two and one-half-story Colonial Revival house with a central hall plan, side gable roof with boxed returns, and round-arched dormers. One-story wings on the east and west, both originally porches. Two-story, rear ell and rear porch. Shingle siding. Porches have molded cornices and solid balustrade and are supported by columns and shingled piers. Classical detailing of front doorway with full architrave supported by round columns, and sidelights. Windows are six-over-six, with Palladian windows in gable ends.
Notable lawn to front of house, with semi-circular drive. Pergola leads from drive to rear garden, also notable, with several flower gardens, a patio, and an open lawn.
House was designed by Erle Stillwell.
At the corner where the First Congregational Church is, the train used to make a sharp right onto White Pine. If it was going too fast, it jumped the tracks. The passengers would get off, lift the wheels back onto the tracks and finish their trip.
Laurel Park Highway
You can make a left here and walk around Rhododendron Lake Nature Park. The parking area is just off White Pine on Primrose Lane. There is a sign. Rhododendron Lake was renamed Laurel Park Lake in the 20s. They've gone back to the old name.
Go straight. The road becomes Laurel Park Highway. You will see Canal Drive on your right.
There was a canal here that connected the two lakes, Laurel Park Lake and Rainbow Lake. Gondolas went back and forth on this man-made canal.
Follow Canal Drive to the small lake at the end. Then drive right, over the dam and make a left onto Crystal Spring Drive. There is soon an intersection. Crystal Spring Drive is the left turn. (There are signs, but it is confusing.) This is a really beautiful little stretch, especially when the Laurel is blooming.
The road soon widens a little and there is room to park.
There is a marker on the other side.
This is Crystal Spring. If you walk either way, you will get to the old steps and path to the spring. This is a great place for photos.
Continue on Crystal Spring Drive and it brings you back out to Laurel Park Highway. You are going to turn right, but if you look to your left, you can see one of the old hotels that catered to tourists visiting the Crystal Spring. You will pass it again on the way back.
Turn right on Laurel Park Highway and follow the signs. If you have a GPS set to bring you to Jump Off Rock, it may tell you to take different turns than the signs. A lot of the roads interconnect. Hebron and Laurel Park Highway cross each other a couple of times. Either way, you will get there.
Nearly at the top, you see Fleetwood Plaza. It's just condos now, but can you believe there was once a huge 15-story hotel? Commodore J. Perry Stolz, the man who built the Fleetwood Hotel in Miami had a Fleetwood built almost the same at the top of this mountain. He commissioned Laurel Park Highway that you drove up. It was made of concrete and was the first highway in the United States to have electric lighting.
The Fleetwood Hotel was actually finished on the outside and got to the thirteenth floor on the inside.
Then the Great Miami hurricane hit. The wind, waves and storm surge undermined the huge multi-story casinos on Miami Beach and washed out the A1A and the bridges. The Commodore was wiped out. The Great Depression followed and the hotel remained, nearly finished, until it was sold for salvage in 1939.
Ahead of you is Jump Off Rock.