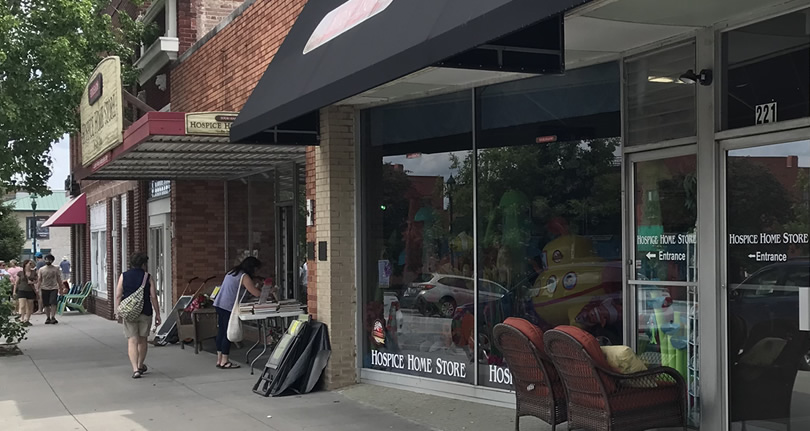 The Hospice Home Store is on the next block from the old courthouse. They have everything, from antique furniture to books, china, clothes and yarn, quilting fabric and other crafting supplies, and everything else you expect to find in a thrift store. The prices are what you should expect, too. Kinda on the low side, compared to some of the stores selling used items around here.
Four Seasons Hospice Home Store is in the historic section of downtown Hendersonville. The building used to be a Western Auto. Other Western Auto stores only sold car parts and accessories and a few other things. Western Auto made the Western Flyer bicycle. Ours sold a little bit of everything. I got quite a lot of the stuff I needed when I first moved into the log cabin there.
The store is big. This is just one side. It is the size of two stores with a d
You can often find something collectable.
Check out the Bargain Basement. This is where they put anything that didn't sell and things that come in and need repair.
It looks like a basement.
I have picked up craft supplies here. Some I've even used! Sometimes you can find the whole project in a ziploc bag, the book, the supplies and the tools.
If it is something you like, it is definitely cheap enough!
Some things are less of a bargain than others. I wonder if the people who price some of these things actually shop? Perhaps they didn't feel like adjusting the pricing gun? Maybe they didn't notice the additional zero and they meant $1.00?
Parking
If you can't park in front, there are often parking places behind the store or on the other side of the courthouse.Don't forget that the next street, behind the store, is one-way. So looking for parking, take the first street past the store, then you can make a left to check the next block if you don't have success on the first. If you try the second block first, you can't make a right.
Shop Location & Hours
215 N. Main St Hendersonville, NC
Next door to the Courthouse that is now a museum
Open Monday – Saturday 9:30 AM – 5:30 PM
Four Seasons
Who is supported by this thrift store?
Four Seasons is a nationally recognized, non-profit leader in the delivery of co-created care for people with a serious illness. For nearly 40 years, we have provided access to the best advancements in care to the people of Western North Carolina.