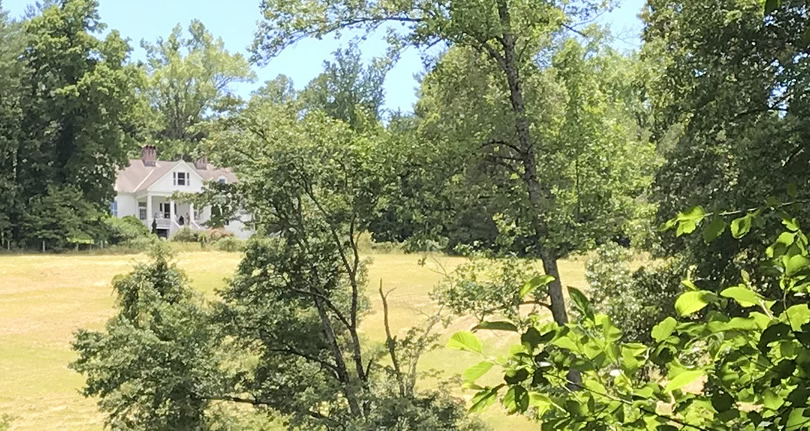 One of my favorite places in Hendersonville is Connemara, the home of Carl Sandburg. My favorite part is the goats.
There is plenty of convenient parking.
If by some chance the parking lot is full, there is more parking. The Flat Rock Playhouse parking is close. The Village of Flat Rock Parking is not close, but during season there is a shuttle.
Additional Parking

Flat Rock Playhouse Parking: Across the road, except after 12:00pm Wednesday – Sunday

Village of Flat Rock Parking:

Right on Little River Rd.
Left on Greenville Hwy
Right on Village Center Dr

Hikers' Parking Lot: Drive ½ mile west (left) on Little River Rd (No Buses)

Shuttle (seasonal): Call 828-698-5627
The plaque is just off the parking lot.
Welcome!

Grounds are open from sunrise to sunset.
Buildings close at 5:00 p.m.

The main house is 0.3 miles from the visitor parking lot, with a 110' elevation change. If you are unable to safely make the climb, use the call box to your right.

Main House

Tours take 30 minutes and are scheduled throughout the day on a first come first serve basis. Fee required.

Goat Barn

Explore the goat barn where Mrs. Sandburg raised world-famous dairy goats and meet the descendants of her herd. Free.

Hiking Trails

Over 5 miles of trails will lead you to the quiet places that delighted the Sandburgs, including Glassy Mountain. Free.

Foot traffic only. Remain on trails and watch your step on wet and uneven surfaces. Be aware of poison ivy, ticks, poisonous snakes, and black bears.
The path is paved and the slope is not steep at all.
The rhododendron was in full bloom in June.
Welcome to the Carl Sandburg Home National Historic Site TRACK Trail

The Kids in Parks TRACK Trails program provides a network of trails designed for kids and families. Each TRACK Trail has a series of self-guided adventures. A different story unfolds within the pages of each brochure. They're fun, easy and free. Best of all, the fun doesn't stop at the trail's end because kids can earn Trail TRACKer Gear for each TRACK Trail adventure they register through the website kidsinparks.com

Farm, Field and Forest

Many people come to Carl Sandburg Home National Historic Site, nicknamed Connemara, to enjoy the peaceful surroundings and learn about poet and author Carl Sandburg. There are many more features that make his home a special place then and now.

The farm was used by the Sandburg family to live sustainably. They used the gardens and farm animals to provide much of their food, and goat milk was enjoyed by the entire family.

Grasses and other plants in the fields and pastures fed the farm animals and a large variety of wildlife including birds, butterflies and bees.

The forest at Connemara provided shelter, habitat, food and oxygen for animal residents as it still does today.
Look across the lake from the first informational sign for a beautiful view of Connemara.
An American Classic

Give me a quiet garret alone
Where I may sit for a few casual callers
And tell them carelessly, offhandedly,
'This is where I dirty paper.'
Thus each poet prays and dreams.
The eternal hobo asks for a quiet room
with a little paper he can dirty,
with birds who sit where he tells 'em.

Carl Sandburg, Breathing Tokens, 1945

He was sixty-seven and world-famous when he resettled here on this quiet hilltop in 1945 with his wife, daughters, and grandchildren – this unorthodox poet, journalist, children's writer, political activist, lecturer, folksinger, and popular biographer of Lincoln.

His long road to this North Carolina farm started on the prairies of Illinois in 1878. The maverick son of struggling Swedish immigrants, young Car wanted above all to be known as an American. He found his literary voice, not in Paris or New York, but working in small Midwestern towns and farms, and on the streets of Chicago and Milwaukee. He loved the words of the heartland he collected on his travels, and experimented with their shapes and sounds. By the 1920s, he was widely acknowledged to be a "Poet of the People."

Called a "passionate champion of those who did not have the words or the power to speak for themselves," Carl Sandburg's voice spoke loudly to the feelings and thoughts of his fellow Americans for two-thirds of the 20th century.

After Sandburg died in 1967, Congress established his home as a National Historic Site. This is the first unit of the National Park Service created to honor an American poet.

Here, you can experience the life, works, and legacy of Carl Sandburg.
Pets are allowed. They have to be on a leash no longer than 6-foot. Clean up after your pet.
Learn more about Carl Sandburg and his works from the displays.
It might be a good idea to use the restrooms before you continue on.
There are picnic tables. They cannot be reserved, but I've never seen them full.
More about Carl Sandburg, the goats, the history of the house, and Tours and Trails at Connemara: Carl Sandburg Home National Historic Site >
Directions To the Carl Sandburg House from Meadowbrook Log Cabin

Meadowbrook Log Cabin is about 10 or 15 minutes from Connemara.
Turn right on US-25 and go south through town toward Flat Rock.
You can take Main Street or Church Street south. Main and Church merge.
At the light in front of the Fresh Market (on the left), stay in the far right lane.
Through the light stay to the left, on US-225. The right lane turns off.
Continue for 2.5 miles.
Turn on Little River Road, just past the Flat Rock Theater. The road is marked.
The parking area is just to your left, clearly marked.