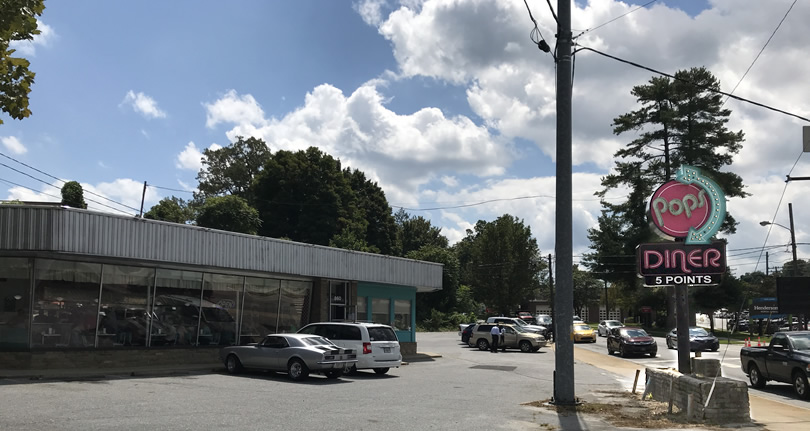 Pop's Diner only serves breakfast and lunch. They open at 6:30 in the morning and close at 2:00 after lunch. You can have anything on the menu at any time.
If you go in expecting good diner food, you will love it. If you are expecting bistro food, you are in a diner. Good food for not much money.
We usually get breakfast. They have omelets and eggs any way you want them. My husband usually gets scrambled eggs with corned beef hash. I try something different nearly every time. I've had the pancakes, waffles and French toast. I love the pumpkin pancakes! There is also this rich potato casserole; I don't remember the name of it. Really good! The biscuits are good, too, but they will run out of them around 11:00 or so.
They also have breakfast burritos and breakfast sandwiches, the traditional ones and a BLT with an egg.
We've had lunch there, too. The burgers are great. Better buns than a lot of other diners. They also have hotdogs and a patty melt. I love the onion rings, but they also have fries.
The Blue Plate Special is Hamburger Steak, Open Face Roast Beef Sandwich, Chicken Fried Chicken, Chicken Fried Steak or Chicken Tenders with two or three sides and Texas toast or corn bread. I think liver and onions is still on the menu, too.
The sandwiches are diner sandwiches. I think they are delicious, but I've brought people with me that got all snooty about them. So, if you're snooty about sandwiches, don't order one. You are in a diner.
The salads are better than you would expect. At least when I had one, it was really fresh. It did not taste like those bag salads. The soup is homemade. Ask what they are making that day.
Or just go in for a milkshake or float!
This diner has been here for nearly 70 years. It's had a few different names. It was the Carolina Diner. Locals still call it Five Points. It looks like a diner from the '50s.
We are located in the longest operated restaurant in Hendersonville North Carolina. Hence we are the oldest restaurant In Hendersonville. We specialize in fresh food. Our food is prepped daily and prepared when you order it. We do not take short cuts and we use the highest quality ingredients. The cooks at Pop's Diner have over 50 combined years experience. We also have knowledgeable wait staff who are prompt and takes pride in serving your family. So if you're local please try us out your sure to become a regular. If you're visiting our town, come in for the best breakfast and lunch in WNC. The owners are local and raised their kids here and contribute to the local economy.

Pop's Diner Website
Why is it called Pop's Diner now?
When the owner's father died, she renamed the diner to honor him.
Kimberly Burrell… said the new restaurant is a love letter to her late father, David Seelig, who was often found helping out at the diner although he wasn't an official employee and had no ownership in the business…

"When he passed away, you know, it just hit me that this would be a great way to honor him because he loved the '50s," Burrell said. "Food was kind of something we always had in common. He ran a huge restaurant in Florida before he moved up here.

"He was my little sidekick. That's why I wanted to name it 'Pop's,' because everybody called him Pop."

Hendersonville Times-News
Leigh Kelley, Staff Writer
Jan 20, 2012
It really doesn't look like much from the outside, but the food is really good.