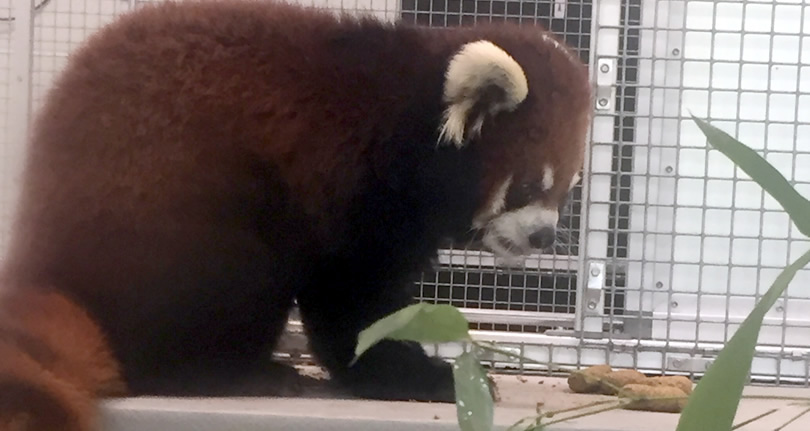 When I was a kid, this was the Asheville City Zoo. We visited as a field trip in third or fourth grade. Now it is the Western North Carolina Nature Center. It has all kinds of animals and plants that are native to this area.
The Western North Carolina Nature Center connects people with the animals and plants of the Southern Appalachian Mountain region by inspiring appreciation, nurturing understanding, and advancing conservation of the region's rich biodiversity.
wildwnc.org
Late last year we began hearing that the Nature Center was getting Red Pandas. They arrived in November and, after quarantine and some time to get used to their new home; their home was open to see in February (this year, 2019).
We visited them yesterday. There was some fog on the window, so the photos didn't turn out as well as we could see them in real life.
We got to the Nature Center early, as soon as it opened and started with the Red Pandas.
We knew there were two, but we could only see one, sleeping on a window sill.
Then, a keeper came in and set out breakfast. He came down and started eating.
The Red Panda moved slowly and gracefully. Kinda the opposite of a monkey.
red_panda-3.jpg
He picked up the peanut shaped biscuits with his front paws. It looks like he has a thumb, but actually it is a pseudo-thumb, a modified wrist bone. Giant Pandas have the same kind of hands.
The keeper added bamboo branches to a bamboo swing, but he was more interested in the biscuits.
We watched him slowly eat for a while, then the other one woke up. There is a picture so you know which one is which. It was the girl, Leafa, who slept in. We had been watching Phoenix. He is darker.
She stretched and yawned, then headed for a litter box in the corner under the window.
Then she moved, a little more quickly, up to breakfast.
They both ate their biscuits, then went up to the window sill to look out.
Meat Our Pandas
Leafa
Female

Born June 11, 2009 at the Red River Zoo, Fargo ND
Larger of the pair with a lighter face
Phoenix
Male

Born June 13, 2011 at the Assinibcine Park Zoo, Wimmipeg MB
Smaller of the pair with a dark face
Are Red Pandas Related to Giant Pandas?
Right now they believe Red Pandas are member of the Ailuridae family left. At one time they thought they were in the Raccoon (Procyonidae) family. And I can see that. They look a lot like raccoons. They they put them in the Bear (Ursidae) family with the Giant Pandas. Now they have them in a family of their own.
The Ailuridae family is part of the Musteloidea super family, in the order Carnivora along with weasels, raccoons and skunks.
Giant Pandas are still in the Bear family. I checked. Even though Giant Pandas have pseudo-thumbs, that let them use their front paws like hands, they are bears, not bear-raccoons.
Raccoons don't have thumbs at all. It looks like they have front hands the way they use them, but they don't have thumbs. They just have really agile fingers.
Not even all primates have thumbs. There is a rat, the East African maned rat, which has a partly opposable thumb. He looks kinda like a porcupine. We had a six-toed cat one time. He used his extra toes as thumbs. According to Wikipedia, "in many polydactyl cats, both the innermost and outermost ("pinky") toes may become opposable, allowing the cat to perform more complex tasks." So, it wasn't just our cat.
Why are there Red Pandas at the Western North Carolina Nature Center?
The Nature Center has over sixty species of wild and domestic animals, but all of them are local. Red Pandas are found in our forests. They are from Asia, native to the Himalayas and high mountains in Myanmar, China, India and Tibet.
BUT, at one time, a kind of Red Panda, used to live in eastern North America. Fossils have been discovered of "a new genus and species of the red (lesser) panda." It is called "Pristinailurus bristoli" or Bristol's Appalachian Panda. Pristinus means former. Ailurus means Panda and bristoli is for Larry Bristol who discovered it.
Lacustrine sediments deposited within a former sinkhole in the southern Appalachian Mountains provide a rare example of a late Miocene to early Pliocene terrestrial biota from a forested ecosystem5. Here we show that the vertebrate remains contained within this deposit represent a unique combination of North American and Eurasian taxa. A new genus and species of the red (lesser) panda (Pristinailurus bristoli), the earliest and most primitive so far known, was recovered. Also among the fauna are a new species of Eurasian badger (Arctomeles dimolodontus) and the largest concentration of fossil tapirs ever recorded. Cladistical analyses of the two new carnivores strongly suggest immigration events that were earlier than and distinct from previous records6,7, and that the close faunal affinities between eastern North America and eastern Asia in the late Tertiary period are consistent with the contemporaneous botanical record.

Two new carnivores from an unusual late Tertiary forest biota in eastern North America
Steven C. Wallace & Xiaoming Wang
www.nature.com/articles/nature02819
Bristol's Appalachian Panda probably looked a lot like these Red Pandas, but bigger. They probably weighed from 17 to 33 pounds. Red Pandas only weigh 11 pounds. They also had bigger incisor and canine teeth. But, they had the same thumb.
Bristol's Appalachian Panda has been extinct for so long we didn't even know they existed until pretty recently. Red Pandas are an endangered species. Only several thousand remain in the wild. So, our Red Pandas, Leafa and Phoenix, are part of the Association of Zoos and Aquariums Species Survival Program. WNC Nature Center is helping to save Red Pandas. Their natural climate in Asia is very similar to our climate here. The Knoxville Zoo of Tennessee has Red Pandas that are so happy, they have had more baby Red Pandas born than any other zoo in the Species Survival Program. So Leafa and Phoenix should be happy in their new home. And maybe soon we will have some baby Red Pandas!
Caring for Pandas

With fewer than 10,000 red pandas left in the wild, AZA accredited zoos and the expert welfare they provide, are critical to their survival.

The view into our panda wellness center offers an opportunity to see the elements needed to provide excellent care for these amazing animals.
The Western North Carolina Nature Center Prehistoric Appalachia Exhibit
Bristol's Panda

This life-sized model of Bristol's panda was created using measurements taken from remains discovered at the Gray Fossil Site. About twice the size of today's red panda, they were adapted for life on the ground and spent little time in the trees. Like the giant panda and the red panda, bamboo made up a large portion of the Bristol panda's diet.
Leafa and Phoenix are the first part of a new Prehistoric Appalachia Exhibit.
"The Prehistoric Appalachia exhibit is a step into the past brought to life by the Miocene epoch uncovered at the Gray Fossil Site in Tennessee. This dig site is filled with the remains of species that we can no longer find around us such as tapirs, rhinoceros and alligators.
"
Nature Center Notes: Meet the red pandas
Citizen Times Special to WNC Parent Feb. 7, 2019
www.citizen-times.com/story/life/family/2019/02/07/wnc-nature-center-notes-meet-ashevilles-new-red-pandas/2568829002/
The Gray TN Fossil Site

The Gray Fossil Site was discovered by geologists in May 2000. They were investigating unusual clay deposits that turned up during a Tennessee Department of Transportation highway project to widen State Route 75 south of its intersection with Interstate 26 near Gray TN – less than 75 miles from Asheville

State Route 75 was realigned to protect the find by order of Tennesssee Governor Don Sundquist, and a museum and research center at the dig operated by East Tennessee State University opened in August 2007.

Along with the unearthing of Bristol's Panda, digging at the site to date has also yielded the world's largest tapir fossil find as well as a complete skeleton of Teloceras – an ancient rhinoceros!
A Panda in the Southern Appalachians?

In 2002, a fossilized skull of a new panda species was discovered at the Gray Fossil Site near Johnson City TN. This species, dubbed Pristinailurus bristoli, or Bristol's Panda, lived about 6 million years ago in the Souther Appalachians and is the ancestor of the red panda Ailurus fulgens currently living in the Himalayan Mountains of Asia.
Home Grown Bamboo

Red Pandas eat a LOT of bamboo! A single adult may eat several stalks per day. To satisfy their healthy appetite with fresh bamboo, the Nature Center maintains a ½ acre plot of this rapid growing plant directly behind their exhibit.

Now that is "Farm to Table" dining!