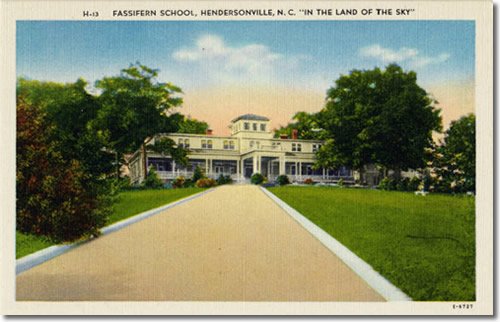 There is a stone column with a plaque about Fassifern School for Girls on Fleming Street Hendersonville.
Fassifern School was not just a finishing school. They had a business course as early as 1918. They had certificate programs and taught music, art, Spanish and home economics. Fassifern graduates met the requirements to be accepted at Southern Association Colleges, the University of North Carolina, Smith and Wellesley and other schools.
What was Fassifern School For Girls?
Fassifern School was a girl's school in Hendersonville, NC. It was not just a finishing school. They taught business to girls as early as 1918.
It was run by Anna Shipp McBee and Katherine Cameron Shipp, the daughters of Captain William Marcus Shipp.
William Marcus Shipp represented Hendersonville when North Carolina seceded from the Union. He later became a judge. Judge Shipp presided over the re-trial of "Tom Dooley."
Hang down your head, Tom Dooley
Hang down your head and cry
Hang down your head, Tom Dooley
Poor boy, you're bound to die
Tom Dula was a former Confederate soldier who was hanged for the murder of his fiancée, Laura Foster.
Katherine Cameron Shipp studied at Saint Mary's School in Raleigh, N.C., then went to Harvard University in Massachusetts. Later she studied at Cambridge University where she obtained a teacher's diploma.
Students from around the world lived at the school and local students attended classes.
Our Alma Mater opened her doors for the first time to a limited number of fifteen girls in October, 1907 in Lincolnton, N.C. However, not for long was the registration to be so small, every year the number was steadily increased and soon it became necessary to have larger buildings.

In October, 1914, Fassifern moved to Hendersonville, its present site. During its first year there sixty pupils were enrolled, McBee Hall, has been erected, and a cottage rented for the teachers. As the enrollment of Fassifern has been growing steadily, a broader field of work has become necessary, soon in 1915 the Spanish Department took its place in our regular curriculum. The following year, a course in home economics was installed, and in 1918 the business course was begun. In the same year, the Art Department was thrown open to the entire student body, whereas heretofore only those taking a special course in art received the advantages of this department.

Battle, '21
The Sapphire, the Fassifern yearbook
Here is a closer look at the photos from the yearbook of the school.
The Hendersonville Historic Preservation Commission website says that there were several prestigious private academies in Hendersonville in the late 1800s and early 1900s.
These schools took advantage of the scenic setting and salubrious climate to attract the children of wealthy families from throughout the region…

Fassifern, which was formed in Lincolnton, North Carolina, by Kate Shipp, daughter of a Hendersonville attorney, was moved to Hendersonville in 1911. Here it occupied the summer house of J. Caldwell Robertson.

Hendersonville Historic Preservation Commission
Hendersonville's Past
www.hendersonvillehpc.org/hendersonville
Volume 4 of the 1919 edition of the History of North Carolina has an entry on Fassifern School for Girls. The school awarded certificates in various programs and had an accredited college prep program. Fassifern graduates met the requirements to be accepted at Southern Association Colleges, the University of North Carolina, Smith and Wellesley and other schools.
Fassifern, a home school for girls, which recently closed its tenth successful year, has gained and holds a place as one of the distinctive preparatory schools of the South. It represents a happy development of a plan for giving wholesome mental discipline and practical instructions in an environment of picturesque buildings, grounds and landscape charm calculated to make years spent here abundant in happy associations and productive of the greatest good in real culture and character formation.

Fassifern was opened in October, 1907, at Lincolnton, North Carolina. In October, 1914, the school was moved to Hendersonville. At Lincolnton the number of boarding pupils was limited to fifteen and the total number had been enrolled within a month from the opening day. During the seven years in Lincolnton the number was increased to forty. When the school moved to Hendersonville it had sixty boarding pupils. The curriculum has been gradually enlarged, and since 1916 the school has maintained a full department in home economics. In the ten years of its existence Fassifern graduated twenty young women in the full course besides various certificate students. The first diploma was awarded in 1913.

Fassifern is distinctly a standard preparatory school, furnishing the facilities of instruction and other training required to meet the requirements and standards of such American women's colleges as Smith and Wellesley. Fassifern is on the accredited list of the Association of Southern Colleges, of the University of North Carolina and Smith and Wellesley and other similar schools. The departments for instruction include the usual literary and language departments, a business course, and special departments in music, art and home economics. The school makes a specialty of individual work, all classes being small, and the instructors and principals paying special attention to the particular needs of each pupil.

The school home is a stately group of colonial buildings standing on an eminence from which some of the finest topography in that section of North Carolina is surveyed. There is every opportunity and encouragement for wholesome outdoor life and recreation. It is a school where every vital interest is carefully safeguarded, and where the best ideals of home life are upheld and stimulated.

The principals of Fassifern are Miss Kate. C. Shipp and Mrs. Anna C. McBee, and assisting them are half a dozen specialists in their particular fields, in languages, music, art and domestic science. Miss Shipp, who has charge of the mathematics, is a woman of broad experience as an educator and as a school administrator. She has a teacher's diploma from Cambridge University of England.

1919 History of North Carolina
Volume IV
The books also refer to the school in a number of other entries.
Frank L. FitzSimons has nearly a whole chapter about the school.
Ann Cameron Shipp married Dr. McBee. Soon after her marriage she was left a widow. She and her sister, Kate, taught together in private schools in various parts of North Carolina. Later Miss Kate went abroad and studied at Cambridge University in England. While studying in England she found time to travel extensively. One of her visits was made to her family's ancestral home in Scotland called Fassifern. On her return to North Carolina, Kate and her widowed sister, Mrs. McBee, established a private school for girls in Greensboro in 1907. Miss Kate had been so impressed by the charm and beauty of the family ancestral home in Scotland that they decided to name the newly established school for girls Fassifern.

In 1914 the Shipp sisters moved Fassifern to Hendersonville and Fassifern soon became one of the outstanding schools for girls in the entire South. An exclusive finishing school, for the next quarter of a century the school had a stimulating effect on the culture and economy of our town and county. Mrs. McBee stayed more or less in the background in the operation of Fassifern but Miss Kate Shipp, as principal and headmistress of the school, became a prominent personage and was known far and wide as "Miss Kate."
Mrs. McBee died in 1923. Finding the responsibility of Fassifern too burdensome to conduct alone, Miss Kate sold the school to the Rev. Dr. Joseph Sevier. When Dr. Sevier died the school was operated for a few years by his son, John Sevier, who finally closed the school. During the period that Fassifern operated in Hendersonville there were two private schools here for boys, Blue Ridge School for Boys and Carolina Military Naval Academy, known as C.M.N.A. also known as Fleet School. None of these schools exist today.

Fassifern School was located on the hill where Ingles Supermarket is now. Some of the Fassifern School buildings are still standing, owned now by private individuals. Many of us remember when the Fassifern School girls were marched into Hendersonville to shop under the watchful eye of Miss Kate and her faculty members. The students of Blue Ridge School and C.M.N.A. would come to town on the same Monday afternoons in an attempt to flirt and get a word in with the Fassifern girls. A number of romances developed between Fassifern girls and local boys and between local young men and young ladies of the Fassifern faculty.

One such romance is well remembered here. Miss Lucille Kirby was a charming and lovely member of the Fassifern faculty. Dr. Walter Allen was a prominent young doctor practicing medicine here. Dr. Allen's courtship with Miss Kirby ended in marriage. Hendersonville was a much smaller town in those days than it is now and practically everyone knew each other. This romance was eagerly followed by everyone living here at the time. Mrs. Lucille Kirby Allen after the death of Dr. Allen taught school in both our city and county schools until she retired. She still lives in Hendersonville and is remembered by hundreds of her former pupils as a superb teacher and a remarkable person.

When Miss Kate died, her nephew, Cameron Shipp, who was raised here, moved to California where he now lives. As far as I know, this broke the last link between Henderson County and the family of Captain William Marcus Shipp. It was a connection that lasted nearly a century and was richly rewarding both to the Shipps and the county.

On the Banks of the Oklawaha
Frank L. FitzSimons
Hendersonville and Henderson County: A Pictorial History by Jody Barber and Louise Baily also mentions the school.
Fassifern School for Girls was established by Miss Kate Shipp, daughter of a Hendersonville attorney, William M. Shipp. First operating in Lincolnton, North Carolina, the school was moved to Hendersonville in 1914 to a summer home located on the hill on the corner of Fleming Street and U.S. 25 where Ingle's Supermarket is now. All grades were offered to Miss Shipp's students, most of whom were boarders from many states, though a number were local day students. In addition to academics, Fassifern girls were taught to be "ladies" who did not wear fingernail polish or smoke cigarettes. In 1925, the school was sold to Dr. Joseph R. Sevier, a Presbyterian minister and owner of Camp Greystone in Tuxedo. Dr. Sevier added a gymnasium and a second dormitory. After his death, his son, John, continued to run the school until 1952, when it was closed and the property sold.

Hendersonville and Henderson County: A Pictorial History by Jody Barber and Louise Baily
Fassifern Girls
Looking up the school, I found a lot of Facebook posts and other mentions of past students of the school. They came from all over. One man comments that his grandmother from Cuba attended Fassifern School.
Connie Myers Guion, the first woman named professor of clinical medicine, was a graduate of Fassifern. She then earned an M.A. in biochemistry at Wellesley College, became a chemistry instructor at Vassar College, a professor and head of the chemistry department at Sweet Briar College.  Then she earned an M.D. from Cornell University Medical College graduating first in her class. In 1963, New York Hospital's Connie Guion Building was the first time a building was named after a living woman physician.
More locally, Ruth Combs, who, with Daisy Sample, started Ruth Originals , graduated the business program at Fassifern School for Girls then went on to the Traphanger School of Fashion in New York.
At a time when women traditionally worked as secretaries, nurses, or teachers, Ruth and Daisy built a business that placed them in positions of authority and creativity. Using their talents, work ethic, and determination to produce a quality product in which customers were willing to invest, they created a children's fashion company that operated for over 25 years.
Western Regional Archives
Ruth Originals Collection
I remember buying fabric remnants, buttons, zippers and embroidered collars to sew clothes for my daughter at the Ruth Originals outlet where Needful Things is now.
Over the years, more than two hundred girls graduated from Fassifern. They formed the Kate Shipp Alumnae Association and held annual reunions.
What is Left of Fassifern School
As far as I can see, there is nothing much left of the school except the columns on either side of a closed building that looks like it used to be a medical practice.
Shipp Street and Fassifern Court are where the school used to be. Property and tax information on some of the houses list them as FASSIFERN LOPT in the description. I can't see that any of the houses that are left had anything to do with the school, but I could be wrong.
Interestingly, a 1.32 piece of vacant land across from where the school used to be is listed as 1 HISTORIC COURTHOUSE AQUARE STE 2. An alternate site for the courthouse? Maybe it just means it is owned by the city. There is nothing at all there.
The Ingles mentioned in most of my books has moved. There is now a Sav-Mor where the school used to be. One of the two warehouses behind Sav-Mor used to be the Fassifern School Gym.
This is the view from the gym. You can imagine what the view used to be.
That mountain in the distance is Stoney Mountain. At the time there was a 50-foot observation tower at the top of the mountain built by Thomas Israel.
Thomas Israel: Possum Farmer, Justice of the Peace, Hendersonville Town Marshall, Henderson County Sheriff, Deputy U.S. Marshal, Street Overseer and Deputy Tax Collector >
There is a Fassifern Court near the pillar. One end has a circle.
I also found this postcard. It says Fassifern Pillars Apartments 1035 Fleming Street. Perhaps it was apartments after it was a school.
---
The building that used to be the Fassifern School for Girls Gym is for sale, listed by Andrew Riddle with Whitney Commercial Real Estate Services.
The left-most building of the two at 1237 Shipp Street was originally the gymnasium for the Fassifern School for Girls, and in historical photographs, the same central doorway is still intact.

The Shipp family name goes several generations back in the region, and
Fassifern comes from the family's ancestral home in Scotland. In 1914, the Shipp sisters moved the Fassifern School for Girls from Greesnboro to Hendersonville.

Andrew Riddle
Whitney Commercial Real Estate Services
828-243-3610