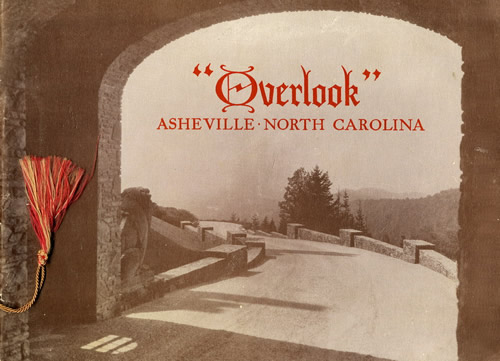 In 1961, Overlook Castle or Seely's Castle in Asheville was on the market. Real estate developers bought it for the land and were trying to sell off the castle. This is a brochure from the Realtor, Roy E. Burton.
Overlook Mansion, Overlook Castle or Seely's Castle in Asheville >
"Overlook", on top of Sunset Mountain, is but two miles over paved roads from the business section of Asheville and commands breath-taking views of the city and surrounding mountains.

The twenty-seven acres are terraced and landscaped, and possess that "ivied" look so suitable to the English-Gothic architecture of the main house. The effect is such that "overlook" has become as much a part of the natural landscape as the mountain itself.

The advantages of altitude, fresh mountain air, sunshine and shade have been captured and blended into this magnificent estate for year-round use. Spacious lawns, shaded nooks, a wisteria arbor leading to a summer house, pools, formal and informal flower gardens, a children's playground, a tennis court, a picnic ground and vegetable gardens make "Overlook" particularly delightful from early Spring to late Fall, and the southern exposure of every principal room, including the six bedrooms, makes the home pleasant and cheerful during the brief Winter season.

Truly, "Overlook" is one of the choice homes of all America.
BUILDINGS:

MAIN HOUSE: Constructed of hollow tile and native stone with reinforced concrete foundation All floors are tile with the exception of bedrooms which are select oak. Interior woodwork is unusually fine quartered oak. Hand-wrought hardware. Double-locking metal casement windows, effectively insulated. Steam vapor heating system with two stoker-fired boilers (one for emergency use). Separate stoker-fired heater for summer hot water.

PRINCIPAL ROOMS: Entrance Court or informal living room, Living Room (30′ x 57′), Music Room, Library (40′ x 50′), Dining Room (24′ x 36′), tiled Kitchen (24′ x 27′), Butler's and storage Pantries, six Bedrooms and four tiled baths (three Bedrooms and two baths on each floor), and an upstairs Sitting Room.

GARAGE: 4-car stone building with caretaker's shop.

BARN: 2-story stone building with concrete floor. For general use or as stable for saddle horses.
The cover and the succeeding four photographs convey some idea of the setting and exterior of "Overlook". Note particularly the "tapestry-like" quality of the stone work.
The large Living Room, with its oak paneling and ceiling beams, stone fireplace and tall windows, harmonize perfectly with the architecture of "Overlook."

The interior views show the spaciousness of the rooms and that as much attention was paid to design and finish as was lavished on the exterior.
The entrance Court is really an informal Living Room where sunshine and fresh air may be controlled by the three windows opening to the southeast, south, and southwest.
A scholar or statesman, or just a lover of good books will find special delight in the Library. Solid mahogany bookshelves cover one entire wall and massive picture windows are set in the south and west walls. A portion of the view from the south window is shown.
People of all ages and all interests will find "Overlook" a home to cherish in their hearts — for "Overlook" was designed for LIVING!
Children, too, are provided for through each stage of their development. First, they will enjoy the sandbox, then the swings, the tennis court, the winding pavements for bicycling — and , always, they will bet the wonderful effect of sunshine and fresh air. When their interests spread beyond "Overlook" they will find and follow the many trails for horseback riding or hiking over nearby mountains.
This is a brochure from the Realtor, Roy E. Burton, trying to sell the castle.
"Overlook" Asheville, North Carolina, donated by Bruce Greenwalt to the H. Ramsey Library, Special Collections at the University of North Carolina at Asheville http://toto.lib.unca.edu/booklets/overlook/default_overlook.htm