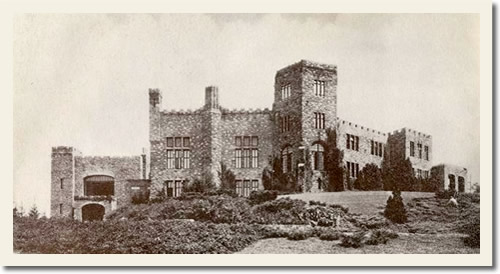 Overlook Castle is a Gothic castle at 379 Town Mountain Rd, Asheville, NC. It was finished in 1914 and has had many owners and residents including a social activist, a college, a huge German shepherd, a junk man, a church, and a polyester elastic-waist pants tycoon.

I've also seen the address 710 Town Mountain Rd. I don't know if that is before they changed the numbers or a mailing address, but there is no castle at that address.
Fred Loring Seely
Overlook Castle was built by Fred Loring Seely. Seely was among the first 8 chemists with the Parke-Davis pharmaceutical company, once America's largest drug maker. (It is now part of Pfizer.) He was roommates with Henry Ford. Seely invented a machine to mass produce pills.
Fred Loring Seely married Evelyn Grove, the daughter of Edwin Wiley Grove. Seely went to work for his father-in-law's Paris Medicine Company, in Paris, Tennessee.
Grove had earlier invented a method of suspending quinine in sweet flavored syrup, like cough syrup. Quinine is an effective treatment for fever. It was especially used for malaria. Yes, malaria used to be a real problem in the southern states. But quinine is bitter. Just a tiny bit is the flavor in tonic water. Grove's Tasteless Chill Tonic wasn't actually tasteless, but it covered the taste of the quinine. The Paris Medicine Company was a success and Seely became an executive.
When the source of raw materials to make quinine, the bark from the Cinchona, a South American tree, was threatened by political unrest, Seely procured thousands of Cinchona seedlings and planted them in Java. Java became the world's largest producer of quinine. Seely's wife, Evelyn accompanied him. The couple went on to have five children, Alice Gertrude, Mary Louise, John Day, James Grove and Fred Loring.
Seely was very socially conscious and concerned with current events. With his father-in-law's backing, he started the The Atlanta Georgian newspaper in 1907, then bought out the Atlanta News. He used this platform to fight against the chain-gang labor system and other social problems.
Georgia state prisoners were rented out for fifty cents a week as basically slave labor. Seely exposed the abuse convicts endured. He named names, sometimes those of his paper's advertisers. He helped bring an end to chain-gang labor, but he also offended the influential advertisers in his newspapers. The paper could not support itself, so eventually Seely sold out to William Randolph Hearst in 1912.
When his papers had to be sold, Fred Seely moved to Asheville, where his father-in-law, Edwin Wiley Grove, had a summer home. Grove believed that the healthy Asheville climate improved his heart problems and healed some of his other complaints. He purchased several tuberculosis sanitariums and land on Sunset Mountain.
Grove invited his son-in-law to help him design a better sanatorium. Earlier, Seely briefly attended the School of Architecture at Princeton University, (where he became close friends with Woodrow Wilson, his next-door-neighbor). Together, Seely and Grove designed and planned a health resort. Within a year, Grove Park Inn opened July 12, 1913, with Seely as the manager. They also planned and developed a residential development and a plan for the development of Asheville.
Seely planned and built the Gothic castle he named Overlook. I've read that he built it using the leftover stone from the Grove Park Inn, off cuts and the stones that were too small. That makes sense. The Grove Park Inn is built of massive stones.
He moved into the home in 1914, but Seely continued to make additions. His family lived in Overlook Mansion off and on until Seely died in 1942, with the castle still unfinished.
Fred Loring Seely was buried in the Calvary Episcopal Church Cemetery in Fletcher, between Hendersonville and Asheville, NC.
Asheville-Biltmore College
After Fred Seely's death, his widow moved into the Battery Park Hotel and sold the castle to Asheville-Biltmore College, later called the University of North Carolina at Asheville, UNC Asheville.
Seely Castle was Asheville-Biltmore College until 1961.
Developers
The college sold the castle to developers.  They bought the castle for the land. They split off the castle and started looking for a buyer.
This is a brochure from the Realtor, Roy E. Burton, trying to sell the castle.
"Overlook" Asheville, North Carolina, donated by Bruce Greenwalt to the H. Ramsey Library, Special Collections at the University of North Carolina at Asheville
"Overlook", on top of Sunset Mountain, is but two miles over paved roads from the business section of Asheville and commands breath-taking views of the city and surrounding mountains.

The twenty-seven acres are terraced and landscaped, and possess that "ivied" look so suitable to the English-Gothic architecture of the main house. The effect is such that "overlook" has become as much a part of the natural landscape as the mountain itself.

The advantages of altitude, fresh mountain air, sunshine and shade have been captured and blended into this magnificent estate for year-round use. Spacious lawns, shaded nooks, a wisteria arbor leading to a summer house, pools, formal and informal flower gardens, a children's playground, a tennis court, a picnic ground and vegetable gardens make "Overlook" particularly delightful from early Spring to late Fall, and the southern exposure of every principal room, including the six bedrooms, makes the home pleasant and cheerful during the brief Winter season.

Truly, "Overlook" is one of the choice homes of all America.
More photos from the Seely's Castle sales brochure >
The castle sat empty for years.
The Junk Man
Eventually, they sold off the castle to Jerry Sternberg. Jerry Sternberg and Jack Doloboff owned the junkyard on Riverside Drive.
Jerry Sternberg is a real character. He wrote about how he got to buy the castle and what it was like living there in his blog: Jerry Sternberg's Blog >
Sternberg  tells how the castle had sat empty for a while by the time they bought it.  So the first resident was a huge German shepherd they borrowed named Wolf. Wolf ended the vandalism.
Sternberg  moved in with his family. He left the blackboards from the college on what became the children's bedroom walls. They spent years living in and working on the castle. In 1976, they either sold or donated the castle to Overlook Christian Ministries.
The Church
In the late 1970s and early 1980s, Vic and Pat Cassie, Nicholas V. and Patricia Cassizzi lived and held services in the castle. They called it Overlook Ministries.
They wrote a book about their castle ministry. Above is a picture from their book. This is what the castle looked like in the late 1970s.
This is a photo of the family in front of the castle.
Loren Wells of Bon Worth Clothing
The next owner was Loren Wells. He owned Bon Worth clothing. The Bon Worth Outlet is just past Needful Things Antique Mall at the Hendersonville exit off I-26.
In 1966, Loren Wells, a Hendersonville native, thought women would appreciate easy care, comfortable clothing that did not need to be ironed. He pioneered less expensive, comfortable, attractive clothing made with new synthetics. He made elastic waist pants with coordinating tops that were worn untucked to cover the waistband. The clothing was and is popular. There are now nearly 300 Bon Worth Clothing stores.
Wells bought the castle in 1984. Loren Wells and his wife Keela  sometimes lived in the mansion, but mostly just used it to entertain. Wells is quoted saying "I had them come fill up those oil tanks and it cost me $10,000. I can't afford to live here."
Loren Wells obituary in the Hendersonville Lightning Newspaper
Loren Wells died September 8, 2018. What will happen to the castle next?
Overlook Castle is on the U.S. National Register of Historic Places. The grounds are currently 6 acres.