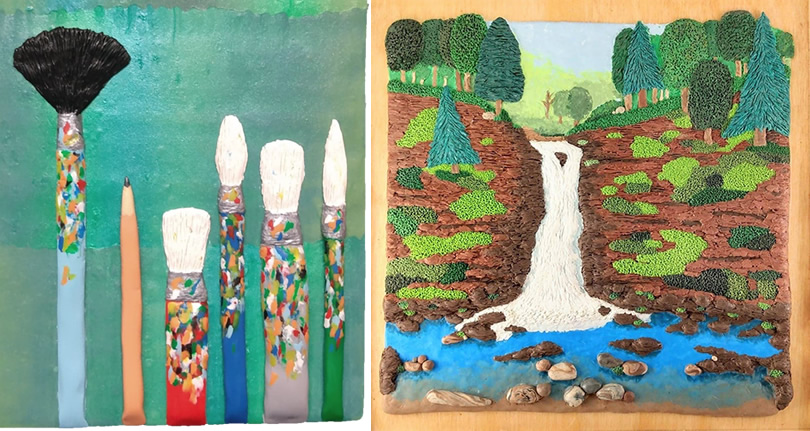 Yesterday I met Katherine Conley of Kat's Kreative Klay. She has taken polymer clay to a whole new level.
I've played with polymer clay before, but the things Kat makes are really special.
She makes all kinds of things, fairy houses and gardens, little figures that she turns into key chains, switch plate covers and covers for journals or planners. They are all made with 100% polymer clay. None of the colors are paints.
Polymer Clay "Paintings"
This and the pictures in the Featured Image are "Paintings" made with 100% polymer clay. No paint is used. They are really remarkable.
Handmade Fairy Houses and Fairy Gardens
She makes the most imaginative fairy gardens and broken pot gardens. They incorporate little handmade polymer clay houses, figures and other structures with plants and moss to make little worlds.
I love this one, a little hobbit house combining different materials.
The fairy houses are handmade of glass and polymer clay. The Fairy Gardens are in terracotta pots with real plants and moss.
Fairy Garden Figurines
The figurines she puts are so imaginative!
Broken Pot Gardens
Each broken pot garden is unique.
The Fairy Gardens and Broken Pot Gardens are available as 8", 10", 12" or 14" pots.
Custom Pet Sculptures
Kat can make an adorable custom replica of your cat, dog or other pet.
She makes little custom sculptures, reproducing what makes your pet special.
Kat can customize a key chain with hand-made sculptured charms that reflect what makes you special, too! A wonderful gift for a friend or for yourself.
Planners, Journals and Sketchbooks
Practical and fun, the Planners, Journals and Sketchbooks are available in dozens of designs. Planners and Journals have no dates filled in, so you can start at any time.
Light Switch Covers
Kat's Kreative Klay Light Switch Covers come in 1, 2 or 3 holes versions. They fit both types of switches and outlets and matching screws are included.
Check out Kat's Kreative Klay on Facebook. She has a Facebook Store, does Custom work and shipping is available.
www.facebook.com/KatsKreativeKlay
Specializing in Custom Orders
"Let's design something together!"
Katherine also teaches classes.
You can find Kat's Kreative Klay artwork available at A Walk in the Woods Local Arts and Crafts in Downtown Hendersonville and at Poppins Posies Flower Farm in Mills River.
A Walk in the Woods
Historic Downtown Hendersonville
423 N Main St
Hendersonville, NC 28792
828-577-6277
Poppins Posies Flower Farm
Open Seasonally
374 Ray Hill Rd
Mills River, NC 28759

A Walk in the Woods in Historic Downtown Hendersonville