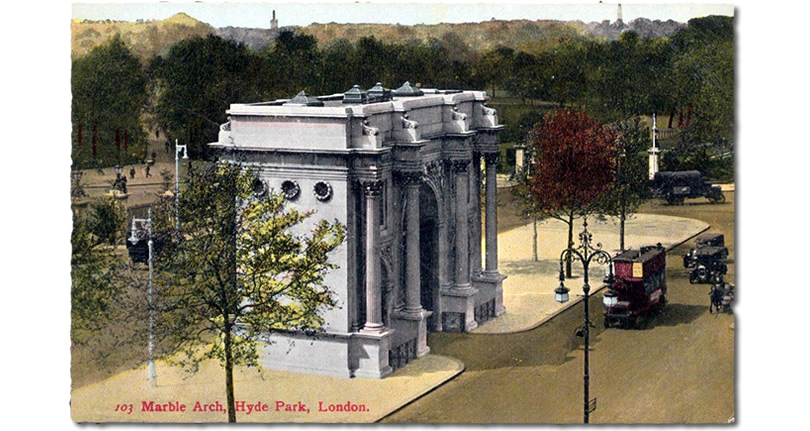 I am rereading The Daughter of Time by Josephine Tey. There is a conversation between Inspector Alan Grant and the hospital porter.
"Some people believe the earth is flat. Some people believe the world is going to end in A.D. 2000. Some people believe that it began less than five thousand years ago. You'll hear far funnier things than that at Marble Arch of a Sunday…. You take it to Marble Arch on Sunday, and I'll bet you'll find followers aplenty. Maybe start a movement."


Whereupon Grant thinks, "If I get any deeper into this thing I will be standing on a soapbox at Marble Arch."
A soapbox at Marble Arch? My mind jumped to the Marble Arch where the Cladagh River flows into Marble Arch Cave in Ireland, but that's not it at all.
Hyde Park Speakers' Corner
Speakers' Corner is located on the north-east edge of Hyde Park, right in front of Marble Arch.
By the 1930s "soapbox" orators were to be found in marketplaces, street corners and parks across the country. Of the estimated one hundred speaking places found weekly in London between 1855 and 1939, Speakers' Corner is the last to survive.

The Royal Parks, Hyde Park, Speakers' Corner
www.royalparks.org.uk/parks/hyde-park/things-to-see-and-do/speakers-corner
This is where Tyburn Gallows was from 1196 till 1783. The condemned could make a final speech before their execution. In 1783 executions were moved to Newgate Prison.
Sunday was the only day most workers had off, so Sunday got to be the day speakers would turn up to speak on really any subject. Leftists like Karl and Eleanor Marx, Lenin, George Orwell and other people you have heard of orated at Marble Arch. Even William Morris, best known for influencing the Arts and Crafts Movement, spoke to crowds here when he was politically active. He joined radical and liberal activists until he was disillusioned with them.

Street View Oct 2017 Hyde Park Marble Arch
People found an audience there in the 1950s when Josephine Tey wrote. It is still an area where people go to shout about just about anything.
Speakers' Corner is a traditional site for public speeches and debates since the mid 1800's when protests and demonstrations took place in Hyde Park. …on a Sunday morning, it's not unusual to find crowds gathering at Speakers' Corner to listen to enthusiasts expounding their views. Anyone can turn up unannounced to speak on any subject, as long as the police consider their speeches lawful.

The Royal Parks, Hyde Park, Speakers' Corner
www.royalparks.org.uk/parks/hyde-park/things-to-see-and-do/speakers-corner
Marble Arch
The arch is the one that was designed by John Nash as the entrance gate to Buckingham Palace. It used to be near the balcony you see the Royal Family on.


The palace was expanded because it was too small for Queen Victoria's family beginning in 1847.
The arch was moved to create a ceremonial entrance to Hyde Park. It was completed in 1851.
There are rooms inside the arch. In 1951 when The Daughter of Time was written, Metropolitan Police were there. The arch was used as a police station from the time the arch was moved until 1968.
Later, in 1958 the lane was widened and Marble Arch was left on an island, surrounded by traffic.

Marble Arch Surrounded by Traffic

Park Side of Marble Arch
When people refer to Marble Arch, they don't just mean the arch. The entire area is called Marble Arch.
Postcards of Marble Arch
This view is from the park looking out.