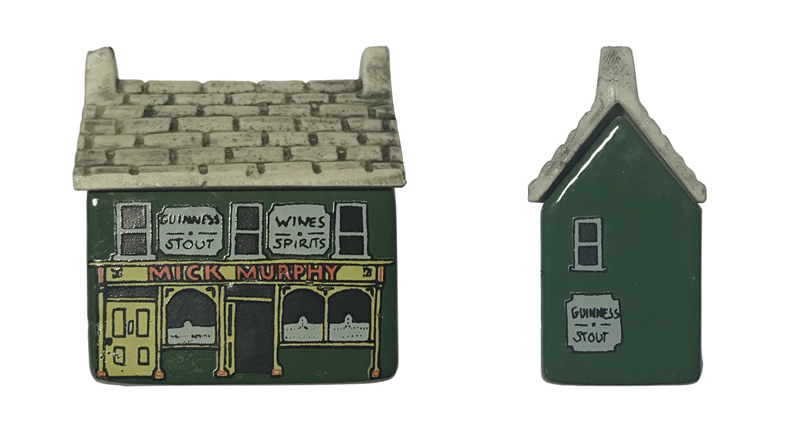 Wade Ceramics
Wade Ceramics was founded in 1867. Originally different members of the family had different factories. By 1958 they merged to become Wade Potteries Limited.
In 1905 more factories owned by relatives were combined, including one that was founded in 1810. So, they backdated the company founding to 1810.
Around this time they started the Irish Wade Ceramics, Wade Ulster Limited in Portadown. Portadown is in County Armagh, Northern Ireland, southwest of Belfast. Pottery made here was often stamped Wade, England. Unless it was a leprechaun.
Whimsies
Wade Potteries started selling Whimsies in 1954. Whimsies are small porcelain animals and other figures. In 1967 they started packing them in Red Rose Tea.
They were made in the Portadown Irish Wade pottery and in Staffordshire in the West Midlands of England near Derbyshire, Leicestershire, Warwickshire and Shropshire.
The various family factories were combined into Wade Potteries Limited in 1958.
Whimsy Villages
Wade made little buildings from 1980 till 1987. The Whimsey-on-Why village has a lot of pieces.
They made the Irish Village, Bally-Whim from 1984 till 1987. There is only the one set with eight pieces.
Irish Wade pottery was closed in the early 90s. The Wade potteries have all been owned by Beauford PLC since 1998.