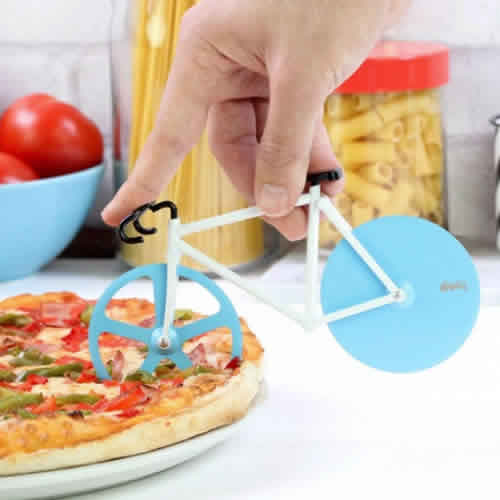 There really is a Bicycle Pizza Cutter. It's not expensive and you can get it on Amazon.
Have you seen this, or a version of it on Facebook or Pinterest?
It really exists! I thought it would be a funny gift for a dieting friend. I found it on Amazon.
It is made by DOIY. They call it the Fixie Pizza Cutter. It is 7″ long x 3.75″ high. The slogan is "Ride fast over your pizza." Okay.
It really does cut pizza.
And it really does look like a little bicycle.
It comes in a lot of different colors.
COLORS

It also comes in different prints.
PRINTS

You can even go all bling and get it in Gold! Or Iridescent!
GOLD

I found some other brands, too. Some were really cheap looking. This one isn't as cute, but looks sturdier, perhaps more functional.
But, really, for functional I use kitchen shears to cut pizza. The DOIY Fixie Bicycle Pizza Cutter is just fun!