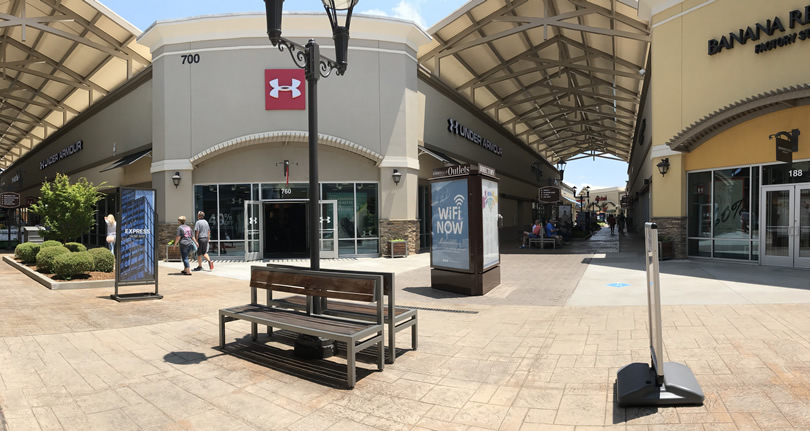 Asheville Outlets, Our Local Outlet Mall is a typical outlet mall with all the same stores you expect to find. There are also a few local shops that seem to come and go. At least right now we have iSmashed NC and Monogram Asheville.
In my opinion, the best store there is the Dillard's Outlet. It predates the mall. All of the clearance from all of the Dillard's stores finds its way here. The inventory is amazing and the prices are good. Additional discounts usually start on Friday, so if you are scheduling your visit, early Friday is best.
There are convenient maps to help you get your bearings. When the little box isn't empty, there are also maps you can take with you.
The mall opens at 10:00 in the morning.
Food Court & Restrooms
There is a food court. They have highchairs available. But unless things have changed by the time you are reading this, the food is not a destination.
The restrooms are off the Food Court and between Gap Factory and the Dillard's Outlet, between Book Warehouse and the Game Outlet, and behind Monogram Asheville near West Elm. There are also restrooms in Dillard's Clearance and Field & Stream.
WiFi
There is free WiFi, so your husband and kids can play on the phone while waiting for you to shop without eating into your minutes.
Wheelchairs & Strollers
They have wheelchairs for those who need them at Customer Service in the Food Court.
They rent out strollers for $10.00. Stroller rental is by the Gap Factory, near the bike rack and the restrooms. The kiosk accepts cash or credit cards. The strollers come with a tablet loaded with games to keep your child entertained while you shop.
Lose Something? Find Something?
Lost and Found is at Customer Service in the Food Court.
You can call Customer Service for Lost and Found items at the Asheville Outlets Outlet Mall, at (828) 667-2308.
Bike Racks & Charging Stations
There are bike racks visible on every side of the outlet mall. They are on the parking lot side of the Nike Factory Store, Dollar Tree and the Food Court.
Parking Charging Stations are near Dillard's Clearance, Coach Outlet and the other side of the mall by the Food Court. The charging stations by Dillard's Clearance are Tesla Superchargers.
Dogs
Asheville Outlets is pet friendly, but not every store is. Your dog has to be on a leash. There is a dog water fountain by West Elm Outlet. Many shops have water bowls out. Let them know if they are empty. Some shops also pass out dog cookies.
The actual address for the mall is 800 Brevard Road Asheville, NC 28806, in case your GPS doesn't have it listed.