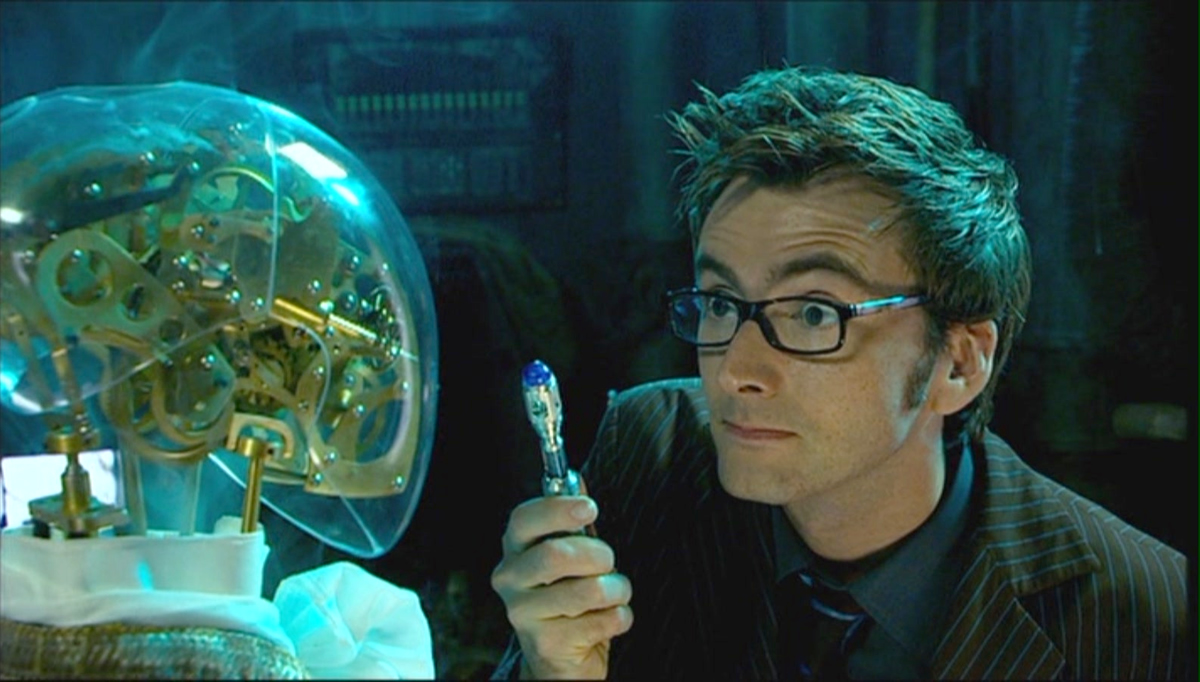 Madame de Pompadour, the Girl in the Fireplace, very likely really saw clockwork men in 18th century Paris. She was probably delighted by the very complicated mechanical clockwork pieces that moved and made sounds.
Automata, Ancient Clockwork Mechanical Men
Clockwork Monk at the Smithsonian
Automaton figure of a monk: south Germany or Spain, c. 1560
Figure: head of poplar wood; head and limbs rendered naturalistically; modern habit.
Movement: iron; height: 39 cm. (15 3/8 in.)
There is a clockwork monk at the National Museum of American History of the Smithsonian. He winds up with a key, then walks about, moving his arms, eyes and head. The mouth moves as if it is praying. He is about 15" tall and is likely over 450 years old.
The account tells that, in 1562, Don Carlos, the firstborn son of Philip II, was injured in a fall.  This was the grandson of Charles V, then ruler of both the Spanish Empire and the Holy Roman Empire.
His recovery motivated the commission of this small mechanical monk. It is made of wood and iron. The mechanism is completely hidden, but x-rays have helped to reveal it's complexity.
Descartes' Daughter
A recent Science Story on BBC Radio told the story of Descartes' Daughter.
" There's a story told about French philosopher René Descartes and his daughter. He boards a ship for a voyage over the North Sea with a large wooden box which he insists be handled with such great care that the sea captain's curiosity is aroused. When Descartes is out of his cabin the sea captain opens the box and is horrified to find a life sized automaton inside. He's so shocked he throws the "daughter" overboard."
René Descartes (1596 –1650), considered the father of modern Western philosophy, was a French philosopher, mathematician, and scientist.
A hundred years after the little automated monk was built, Descartes put forward the idea that living things are machines. He tried to use philosophy to illustrate that human soul and the body are separate.
By the 17th century, there was a real interest in clockwork automata. Mechanical toys were created by jewelers. They can be seen in museums now.
Descartes writes of his interest in automata and mechanical toys and it seems he even tried to build some.
French Clockwork Men
The Doctor Who Episode, The Girl in the Fireplace sets clockwork men in the French court of Louis XV. Jeanne Antoinette Poisson, Madame de Pompadour was born in 1721. Clockwork toys would have been very familiar to her. Contemporary writers mention a miniature coach, and horses with passengers that moved, a peacock that walked and ate and many other clockwork novelties.
These centuries old toys are bigger than today's action figures.
Other Automata
 Jaquet-Droz's 'The Writer' (1774) from BBC's Mechanical Marvels: Clockwork Dreams
In the BBC documentary Mechanical Marvels: Clockwork Dreams, "Professor Simon Schaffer presents a documentary telling the story of automata, extraordinary clockwork machines designed hundreds of years ago to mimic and recreate life."
Merlin's 'The Silver Swan' (1773) from BBC's Mechanical Marvels: Clockwork Dreams
I have the Silver Swan set to begin where he winds it up and it begins to move. You can watch the whole thing if you want to know more.
Europe did not have the monopoly on clockwork men. This one was made in Japan, some 200 years ago.
It is the Karakuri, made by Hisasige. Sometimes it is called Bend Arrow, sometimes it is called Bend Bow.
You can watch the whole thing, but I have it set to start when it starts moving.
David Roentgen
David Roentgen Automaton of Queen Marie Antoinette's Dulcimer Player
David Roentgen was famous for his mechanical cabinets and toys. He built furniture with ingenious hidden drawers, but he is best remembered for his clockwork devised with the clockmaker, Peter Kintzing.
The delightful 18th-century dulcimer player designed and built by the German clockmaker Peter Kintzing and cabinetmaker David Roentgen also lives on. Some 20 inches high, dressed in the costume of a lady of the French court, the model plays eight tunes, hammering delicately on the strings. Kintzing and Roentgen presented the automaton at Versailles in 1784 as a gift for Marie Antoinette (the automaton's dress is reputedly made from one of the French queen's cast-offs). Her Majesty was not destined to see out the century, but the dulcimer player endures, and still performs occasionally in the Musée des Arts et Métiers in Paris.