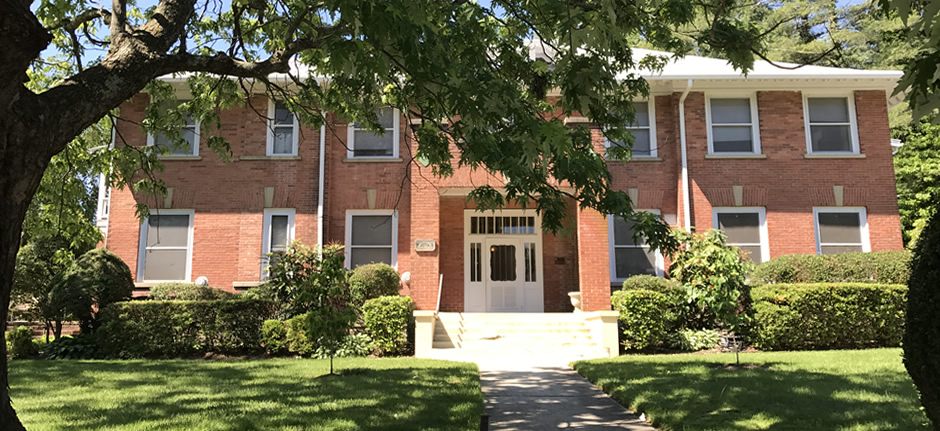 Patton Memorial Hospital, Hyman Heights
1225 Highland Avenue
At one time, most small towns did not have hospitals. A hospital was only for travelers or poor people. Anyone who could afford it was treated in their home. Even surgery was performed in people's homes.
Beginning around 1887, an increasingly devastating epidemic of Yellow Fever hit the south. Residents of effected towns tried to leave, but were turned away wherever they went, even kept out by force. Hendersonville, N.C. was one of the very few communities to welcome those fleeing the disease. A building at the corner of Main Street and First Avenue, across from the Courthouse was adapted to serve as a hospital for any that fell sick. The building, called at different times the Shepherd-Drake Store, Flave Hart Building, Dick Sentelle Store Building or the Drake Store Building was a long 2-story building. Frank L. FitzSimons in From the Banks of the Oklawaha records that 10,000 took refuge in this area from the epidemic.
Later, volunteers of the "Flower Mission" maintained a small room to care for the needy sick. By 1910, these women saw that a hospital was needed. They changed their name to the Hendersonville Hospital Association and started making plans.
On February 25, 1911, the North Carolina General Assembly passed The Patton Memorial Hospital Act. Civic minded local residents offered to donate various plots of land and that given by Mrs. Annie Patton was selected. Meetings were held. Contributions and pledges were raised. Another parcel of land that had been donated was sold and, by December of 1912, enough money had been raised.
Patton Memorial Hospital was dedicated on July 4, 1913. The hospital had 17 rooms.
Dr. Drafts served as Chief of Medical Staff, assisted by Dr. Kirk, Dr. Guy Dixon, Dr. W. B. W. Howe and Dr. J. S. Brown.
Miss Veal, an experienced registered nurse served as Superintendent. She received a salary of $20 a month. Other trained nurses were paid $8 to $10 month, depending on their experience.
By the end of 1918 the salary of the Superintendent of nurses had gone up to $60 month.
Patients paid $1.75 a day for a bed in the women's or men's wards. There were two private rooms. One was $2 a day. The other private room with a private bath was $3.50 a day.
In 1913, Patton Memorial Hospital opened with seventeen rooms, "a magnificent building, admirably suited to its purpose, and containing every improvement which science and experiment can suggest." One doctor observed that "it is as fine a hospital as there is anywhere. There are larger hospitals, but there is none better." Furthermore, "In the basement there is a vacuum cleaner, and by attaching a hose any room can be instantaneously cleaned."

Draw Up a Chair by Louise Howe Bailey
Patton Memorial Hospital is in the Hyman Heights Historical District. While this was the community hospital, doctors built their homes nearby.
The two-story hospital is built in Classical Revival/Bungalow style with a Craftsman style entry portico and hip roof. It is an apartment building now.
Hyman Heights Historic District

Hyman Heights was platted in 1908 and eventually merged with the Mount Royal Subdivision platted in 1923. Killarney House, ca. 1858, is the oldest structure in the district. Much of the neighborhood's growth began in 1913 with the opening of Hendersonville's first hospital, Patton Hospital at 1225 Highland Avenue. This district and its 123 contributing structures are listed on the National Register of Historic Places. Hyman Heights was designated a Local Historic District by the Hendersonville City Council in 1997.