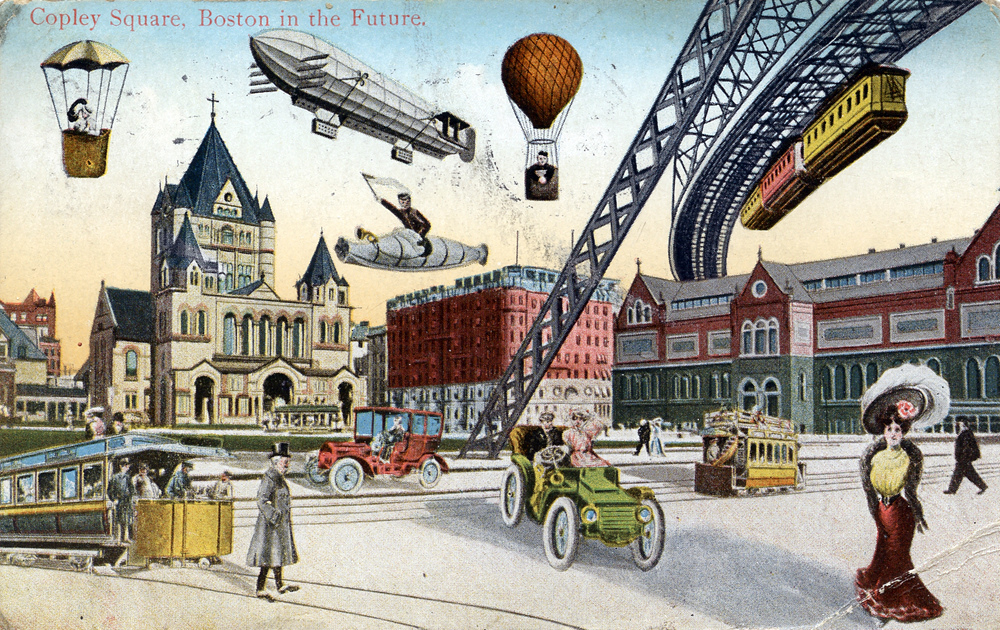 I came across this fun post card of Copley Square, Boston in the Future. I could find that it was created by the Reichner Brothers in the 1900s. When we were in Boston, we drove to Copley Square. It is where Boylston Street, Clarendon Street, St. James Avenue, and Dartmouth Street come together.
You can see the same church, the Venetian Gothic Revival style Trinity Church, completed in 1875.
Here you can get the overview from Google: Google Maps
The next building, near the center, is the Hotel Westminster, Trinity Place, designed by Henry E. Cregier of Chicago in 1897. It is now the northeast corner of the new John Hancock Building.
The last building, on the far right is the Museum of Fine Arts, the first purpose-built public art museum in the world. It was built in 1876 and demolished 1910. It was designed by John Hubbard Sturgis and Charles Brigham in the Gothic Revival style. It was built almost entirely of red brick and terracotta with a small amount of stone in its base.
This postcard was later, after the Museum of Fine Arts was replaced by the Copley-Plaza Hotel.
Why the futuristic postcard?
"In the Future" postcards were a fad beginning around 1900.
Jules Verne and H. G. Wells brought out commercially successful science fiction in the late 1800s.
Jules Verne gave us Journey to the Center of the Earth in 1864, From the Earth to the Moon in 1865, and Twenty Thousand Leagues Under the Sea in 1869. Then, the H. G. Wells stories The Time Machine from 1895 and The War of the Worlds from 1898. These and other stories raised interest in futuristic technology.
A number of postcard companies put out "In the Future" postcards. Boston's Reichner Brothers put out a collection of "In the Future" postcards of several New England towns in 1910/1911. Each shows an actual street from the city it depicts. Copies can be seen at the Boston Public Library.
Hanging Monorail Train
The hanging monorail train is real! It wasn't in Boston, though. That is the Wuppertal Suspension Railway. The first track opened in 1901. Its full name is "Electric Elevated Railway (Suspension Railway) Installation, Eugen Langen System" and it is still used today as a normal means of local public transportation. You can see photos of it here: Wikipedia.org: Wuppertal Suspension Railway
Here are some photos from when we were there.