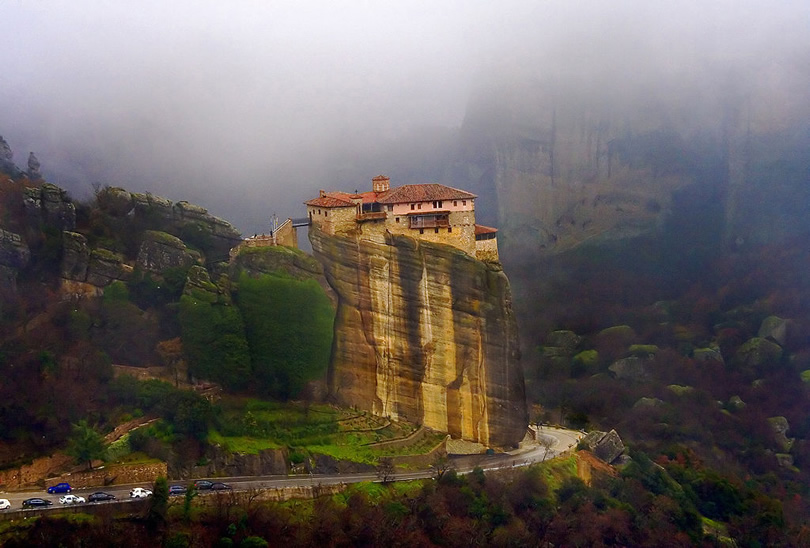 Have you seen these photos? They look like the ones that people fake, but these are real. In the sixteenth century there were as many as 30 monasteries balanced on these massive rock columns. Six are still left.
It is not really part of the nearby Pindos Mountains. The columns come right out of the ground. Geologists differ on how they formed.  They tower as high as 1,800 feet from the ground.
Now they can be reached by stairs and paths cut into the rock. But they used to be accessible only by long precarious ladders and nets, baskets and ropes.
Look in the distance. That is the Agia Triada or Holy Trinity Monastery. It was built in 1475 and added to until 1741. There are still Eastern Orthodox monks living there now.
The monks built on the tops of these rock pillars to keep away from invading armies. At first lone monks hid in the area, but in the fourteenth century they started to build monasteries.
They are in the mountains of Greece, near the town of Kalabáka and the village of Kastráki.  It is a UNESCO World Heritage site.
"Nothing can be more strange and wonderful than this romantic region, which is unlike anything I have ever seen either before or since. In . . . any other mountainous region where I have been, there is nothing at all to be compared to these extraordinary peaks."
—Robert Curzon, English traveler, 1849
As quoted in Awake Magazine, Meteora—Towering Rock Pillars
The monasteries have wooden galleries and corniced rooftops. Some have been restored and improved.
Featured Image by Vaggelis Vlahos