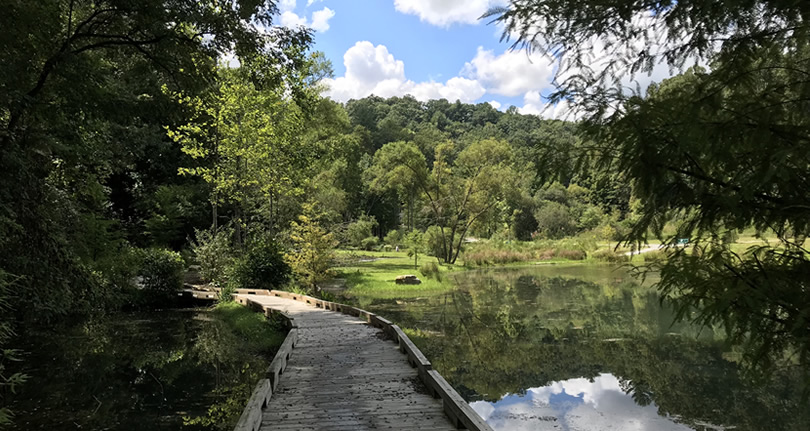 Rhododendron Lake Nature Park is pretty new. It has eleven acres with a walking trail around a lake.
There is a loop trail around a lake where you can see birds and fish. It is a really nice walk.
Rhododendron Lake Loop is a 0.7 mile long.
There are informational signs along the way.
You can see the fish from the boardwalk.
Directions to Rhododendron Lake Nature Park from Meadowbrook Log Cabin
There are a couple of ways to get there. You can put it into the GPS.
This is the easiest route, but maybe not the shortest.
Main Parking Area
321 Primrose Lane, Laurel Park, NC

Turn right onto US-25 toward town.
Turn right on 5th Ave West.  Stay on 5th Avenue.
Turn left on White Pine Drive.
Primrose Lane is on the right.
A parking area is at the end.
Laurel Park Highway ends at a small parking area for Jump Off Rock.
Sterile Triploid Grass Carp

Triploid grass carp are a natural way to control water plants and algae. They are one of the few fish than can eat faster than plants grow. They can live more than 20 years. Don't catch them. If you catch them, put them back.
History & Restoration

Pre-1800s Habitat to a 10-Acre Recreational Lake in 1909 reverting to a Nature Park in 2018

In 1909, W.A. Smith, the founder of Laurel Park, built an earthen dam on the north end of this valley converting a natural forest into a recreational lake enhancing "the most beautiful natural park in this county" (French Broad Hustler, March 1909). For the next 60+ years Rhododendron Lake was the premier location for swimming and entertainment in Henderson County. The Laurel Park Inn & Lake was sold in the early 1970s for the construction of Phase I of the Laurel Park Villas. For safety reasons, the earthen dam was breached and the lake was drained. After years of overgrowth, the lake bed property was purchased by the Town in 2009 and plans for restoration began.
A Three Phase Restoration Project

Phase I: Stream & Wildlife Habitat

In 2011, the Town & French Broad Mitigation Partners implemented a stream restoration plan moving the channelized stream away from Lake Drive and forming a new meandering stream from Lake Drive to Primrose Lane. By using Natural Channel Design and Morphology in the restoration process…

Phase II:  Lake Dredging and Forebay Development

In 2013, the NC Clean Water Management Trust Fund awarded a matching grant to improve the water quality of the in-flows of the remaining Rhododendron Lake. A forebay was created to capture silt from storm water run-off prior to entering the lake, allowing for easier removal of built-up silt in the future. The lake was dredged to remove decades of accumulated silt and to assure appropriate cold water releases downstream. Riparian buffers around the lake and a wetlands area were added to create microhabitats for fish and small wildlife sanctuaries…
Phase III: The Future of Rhododendron Lake Nature Park

In 2016, the Town (of Laurel Park) was awarded a matching grant from the NC Parks and Recreation Trust Fund for the finishing touches on the park. A series of walking trails were added around the perimeter and through the park with a bridge to complete the loop. The trail is interspersed with benches to relax and enjoy the surroundings; including in the trail development is a boardwalk over the wetland area plus an exercise station trail along the picnic and fishing spaces. A donor circle recognizes generous contributors to park development and ongoing support. Parking areas were added on Lake Drive and Primrose Lane…